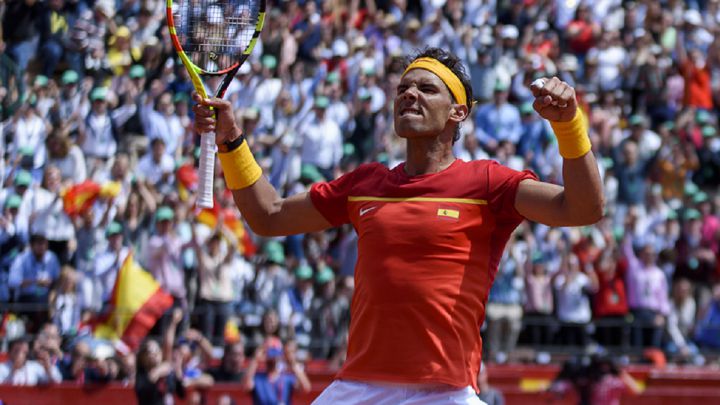 The Board of Directors of the Royal Spanish Tennis Federation (RFET) has unanimously approved the creation of the "National Tennis Day" on June 3, coinciding with Rafael Nadal's birthday.
The proposal will be outlined throughout these months, but the idea is create a great movement of Spanish Tennis that brings together the main actors in a day of massive participation. It is about that all the clubs (more than 1,500 in Spain), the Territorial Federations and the fans of all Spain celebrate Tennis with different activities: social tournaments (mixed, masculine, feminine, infantile, veterans, etc.), Master classes , chair tennis, beach tennis, exhibitions, etc.
The idea came up in a broadcast by Eurosport (a chain that offers several Challengers and ITF Women Tour RFET tournaments) during the Roland Garros match between Rafael Nadal and Richard Gasquet, celebrated on June 3, the birthday of the tennis player from Manacor. The game was being commented on by Álvaro Benito and Alex Corretja, when a spectator, specifically Jorge Mir Mayor, Director of the Tennis Schools of Real Club Jolaseta, proposed through his Twitter account (@jorgemirmayor) create National Tennis Day the same day of the birthday of the most important Spanish tennis player of all time. The idea spread like wildfire on social media and yesterday the RFET Board of Directors decided to support the proposal.
Miguel Díaz Román, President of the RFET, supported the initiative from the beginning. "I was listening to the comments on Eurosport about Nadal's game and I immediately understood that the idea was magnificent. Spanish tennis has a lot to celebrate. We have the most outstanding Spanish athlete of all time, we are current Davis Cup champions and we are in the end of the Billie Jean King Cup. I think, as I say, we have a lot to celebrate, "said Miguel Díaz. From now on, the RFET begins to work on this proposal for the first edition on June 3, 2022.