Tommy Robredo runs between the vineyards, dressed in shorts, and heads for an improvised clay track that Vilarnau, Godó's new sponsor, has set up. He hits the ball with David Ferrer and announces, right after, that it will be his last tournament. At home and before his people. At 39 years old, he leaves professional tennis after a career of almost 24, more than half of his life. In a diaphanous room, with unbeatable views in Sant Sadurni d'Anoiapatiently attends up to 12 communication media individually.
In an interview in 2010 you mentioned that you would retire in two or three years. It's been 12…
Ten or 15 years ago people retired earlier, now many do so when they are close to 40. Everything has improved: there are physical trainers, doctors… I took great care of myself, they respected my injuries, I was able to cheat them.
Does the physical or the mind weigh more in the withdrawal?
Several things come together. I wasn't there physically or mentally, and then there's my position in the ranking. You begin to lose all that and the desire falls. I accepted that this was going to happen, but I played because I loved it. 'Until I find something that fills me more, I won't give it up,' I told myself. The pandemic has accelerated everything. I've been home with my daughter, and I don't want to miss the first daddy, the first crawl, when she walks… I wanted to retire last year, but I didn't want anyone to see me. I wanted to see my father, mother, wife and daughter in the stands, that's why we've come this far.
What was your moment of fulfillment?
I should grab the ranking. And he would be in 2006 or 2007, where he was fifth, sixth or tenth in the world. Now I'm better than before, but it doesn't give me the physique. The bad luck of the tennis player is that at 17 or 18 you start to be a professional, and you don't know anything about life. It's as if you were the director of a company and you start beating yourself up and adapting. And when you're 30 or 35 you retire, and that's when you really know the world.
Does that mean now different things if you went back to 2006?
I would do it totally differently. He would play fewer tournaments, he would prepare them better, he would choose this coach, the other physiotherapist. I'd go live somewhere else… But you learn from everything, and I think the same thing happens in life. And surely now I train a 16-year-old boy and I will guide him, but it does not mean that it goes well for him because what could go well for me does not have to go well for him.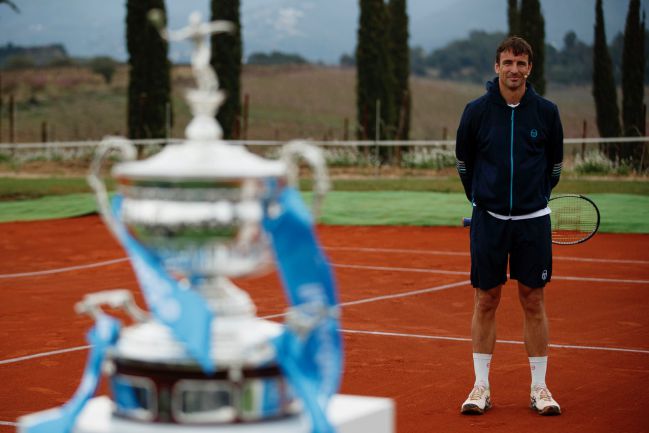 Did it harm you to coincide in the same stage as Nadal?
No, it's all been for the best. That means that in Spain there is more talk about tennis, that there are more sponsors, that everything goes up… When I started in a Grand Slam, if they eliminated you in the first round you won 6,000 euros and now it's 60,000. And that is thanks to Nadal, Federer… Thanks to Nadal there are tournaments or sponsors that come to Spain. Without him, perhaps I would have won a few more games, but that is already a matter of sport. I am calm because I gave that one hundred percent, and that is the important thing.
How do you imagine that goodbye in Barcelona?
I have not imagined the moment. I liked track 1, it makes noise. I don't like a center court at the US Open so much, I prefer people to be close. My friends making noise with the metal, I like that in tennis there is racket. When they only clap, it's fine, but I want to see people enjoy themselves. I will put my maximum to try to give my best level.
He commented in an interview that he prefers the tennis of his time to the current one. Do you think there are less nuances now between the players?
I do not think it's that. You analyze the players and everything is as before. One goes more direct, another has more serve or plays inside the court… But now you don't see points based on work, making the opponent run, looking for the weak point. Youngsters hit you winners from anywhere, and sometimes you think 'how do you do that'… Conceptually, I have a hard time. If you are far away, throw it crosswise or put it in before, do not play it. I am a warrior from ancient times. I like playing Risk more than directly throwing a firecracker. I like the tactic.
Do the new generation look like that to you?
Medvedev seems spectacular to me: he serves tremendously, returns very well and all the shots are deep; he has a hand, he volleys and he recovers the court, Tsitsipas is smarter, he uses more tactics, he knows how to use them. Rebelv is very solid. Zverev is a talent, but he has the ups and downs of him like in Acapulco. Sinner is a tremendous player to get very high. Alcaraz is like him. I don't know if he will be number one, two, seven, but you see that different thing about him. What we can do is not put the new Rafa on him, but the new Alcaraz, he will do his own thing.
And after the Godó?
I want to enjoy this preparation now and arrive well. When some doors close, others open. I'll be Vilarnau's ambassador and see if there's any tennis. We'll see.