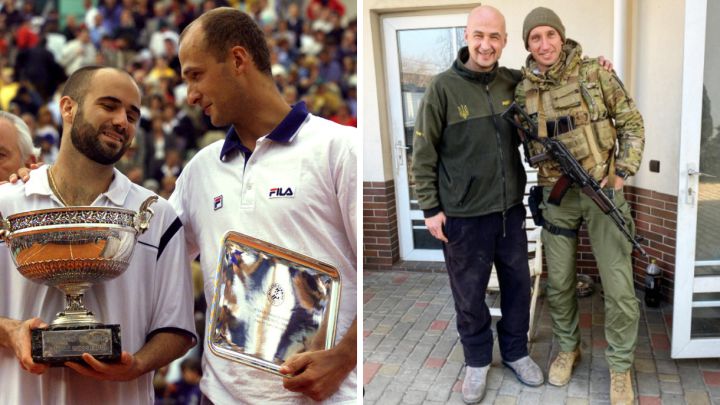 The number of great figures from the world of sport who have stayed in Ukraine to help their country's army fight the Russian invasion continues to increase. To the boxers Vitaly and Wladimir Klitschko (the first of them acts as mayor of kyiv), the coach of the Sheriff Tiraspol Yuriy Vernydub or the cyclist Andrei Tchmil among many others has been joined by one of the great legends of Ukrainian tennis: Andrei Medvedev.
The news was confirmed through his social networks by the also tennis player Sergiy Stakhovsky, one of the athletes who has enlisted in the Ukrainian army and who is most active on social networks when talking about the contest.
Stakhovsky posted a photo on his social networks in which he appears together with Medvedev with the comment: "The world tennis legend Andrei Medvedev remains in kyiv and is ready to face the enemy. I am incredibly happy to see the captain of the Ukrainian national tennis team, Andriy Medvedev. Patriot of Ukraine."
Finalist at Roland Garros after throwing out Sampras and Kuerten
Andrei Medvedev is undoubtedly the great legend of Ukrainian tennis and in 1999 he came very close to making history for Ukraine after reaching the final of a Roland Garros in which he eliminated the American Pete Sampras in the second round and one of the great favorites, the Brazilian Gustavo 'Guga' Kuerten, in the quarterfinals. In fact Medvedev won the first two sets in the final. against André Agassi 1-6 and 2-6 but 'The Kid from Las Vegas' managed to come back from the match by winning the next three sets 6-4, 6-3 and 6-4.
In addition to this Roland Garros final, Medvedev's list of winners includes 11 ATP titles, including three Masters 1,000 in Hamburg (1994, 1995 and 1997), a Masters 1,000 in Monte Carlo (1994) or the Conde de Godó Tournament in Barcelona in 1993. Now Medvedev aspires to another no less important but at the same time more dangerous title: getting the Russian invader out of his native Ukraine.