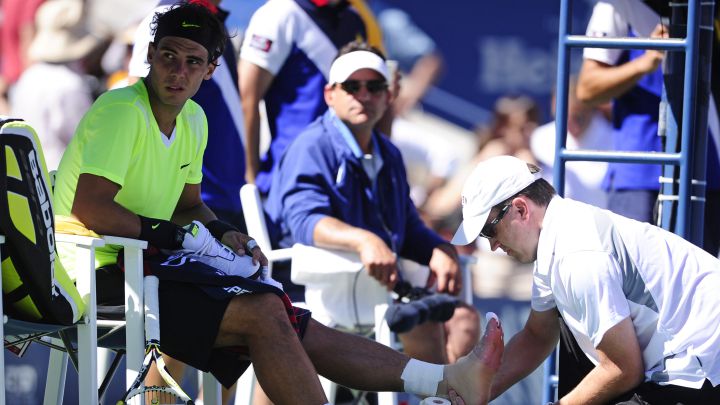 Rafa Nadal, who made history again after beating Novak Djokovic after defeating the Serbian in the quarterfinals at Roland Garros, also beat another of his great 'enemies' in the game this morning. And it is that right now Rafa Nadal's biggest rival is not called Novak Djokovic or Roger Federer, but his name responds to Müller-Weiss syndrome.
What is Müller-Weiss syndrome?
Müller-Weiss syndrome is a dyspladia of the tarsal scaphoid that occurs in childhood and manifests in adulthood. This ailment has the complication that it does not have a surgical solution, so it cannot be completely cured by means of an operation.
The tarsal scaphoid is one of the bones that form the arch of the foot that catches the head of the talus and articulates with the cuneiform bones or wedges of the first three toes of the foot starting with the big toe, being a fundamental piece for the movement of the foot
Maite Garcia, of the podiatrist association of the Valencian Community, assured AS that among the causes that can cause this ailment are "nutritional deficit, endocrine problems and that there is a lateral load important when the big toe is shorter"
For his part, the doctor David López Canapé stated in AS that this Müller-Weiss syndrome produces "significant and progressive pain accompanied by bone deformity that takes the form of a comma with dorsal or medial protrusion and collapse of the lateral portion"
When has Müller-Weiss syndrome affected Nadal the most?
Nadal has been fighting this ailment in his left foot since he was 18 years old and, despite this, he has not stopped adding titles and successes on the circuit. Nevertheless, the Müller-Weiss syndrome has also weighed on Nadal at certain periods of his career.
The best known took place last year when, after Roland Garros, he decided to give up Wimbledon and the Tokyo Olympics. because of these inconveniences. After testing himself in the Washington tournament, Nadal decided to stop completely to treat himself and try to mitigate this injury in order to continue competing.
The last notice he had of the Müller-Weiss syndrome took place in the recent Masters 1,000 in Rome, where Nadal lost his match against the Canadian Denis Shapovalov in a match in which he could barely move in the third set because of these discomforts.
How has Nadal sought to mitigate this Müller-Weiss syndrome?
In addition to the intervention he underwent last year, Nadal has tried to correct as far as possible the ailment of the Müller-Weiss syndrome with special insoles that diverted the point of support and special shoes for him to be allowed to continue playing. However, these changes have also caused Nadal to suffer injuries to other parts of his body such as his knee or ankles.