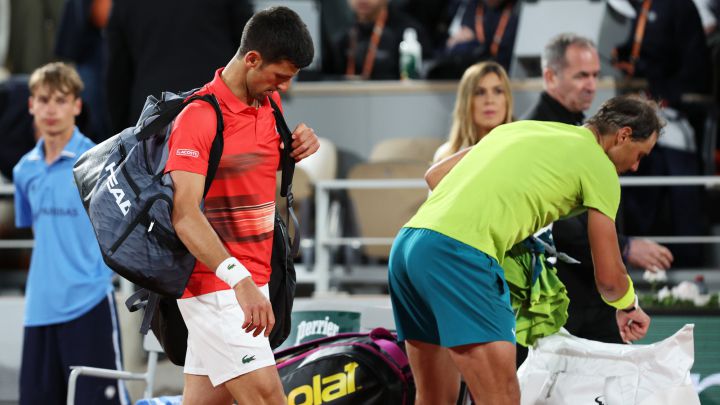 Novak Djokovic offered a brief press conference in the mixed zone of the media room after falling against Rafa Nadal in the quarterfinals of Roland Garros and unreservedly congratulated the Balearic for his victory.

match keys: "Congratulations to Nadal. He was better in the important moments. He started very well and I didn't, 6-2, 3-0, double break. I was gaining momentum when I came from behind in the second set, I managed to win it, and I thought, 'OK , I'm back in the match.' But then he had another two, three fantastic games at the beginning of the third. He was able to take his tennis to another level in those moments, particularly in the beginning of all sets, actually, except the fourth. I had my chances. I served for him to win it, he had a couple of points that could have taken me to a fifth. There the game could have gone to anyone. But once again, Rafa showed why he is a great champion. Staying there, mentally tough and finishing the game the way he did. Congratulations to him and his team. He certainly deserved it."
night games: "There are differences of opinion about the night sessions. I think they are starting too late, to be honest. But again, the television decides. That is the world we live in. The broadcasters say if it is going to be a night game or a day game. They give the money. They decide".
Emotions in the second set: "You don't want to know (smiling). Many, many different emotions. But, look, in a game like this, you go through ups and downs in your game, but also emotionally. I gave my best. I know I could have played better. I'm proud to fight and hang on to the last shot. I lost to a better player than. I had my chances. I didn't take them. That's all. More than four hours of battle. I have to accept this defeat."
Nadal's fitness: "I didn't see any problem with him. No, I'm not surprised."
How did Nadal do after playing five ser with Auger-Aliassime?: "I'm not surprised at all. It's not the first time that he's been able, a few days after being injured and barely walking, to come out 100% physically fit. You know, he's done it many times in his career, so Which doesn't surprise me."