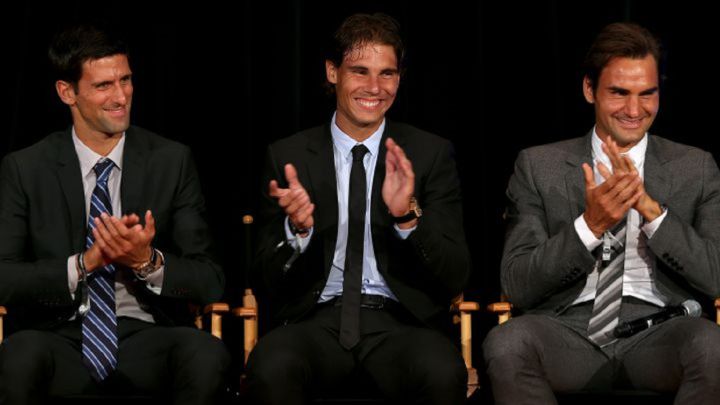 The International Tennis Hall of Fame (ITHF) has proposed several votes to tennis fans around the world through its website: best comeback, best "Cinderella story", greatest iconic celebration, greatest national pride and greatest rivalry.
About the latter, there are up to eight candidates to win this honorary award, among which is the wonderful rivalry between Federer, Nadal and Djokovic. These are the nominees that you can vote from herei:
Jimmy Connors vs. John McEnroe vs. Bjorn Borg
This iconic trio produced countless box office hits. The 1978-81 Borg-McEnroe series finished at 7-7, with four major finishes. McEnroe's skirmishes with Connors were highlighted by two Wimbledon finals and a pair of US Open semi-finals. Borg taking on Connors was a gold mine for connoisseurs, including the jewels of the 1976 US Open final round and 1977 Wimbledon.
Rafael Nadal vs. Roger Federer vs. Novak Djokovic
These towering figures have been majestic to each other. In 2004, Federer and Nadal played the first of the forty most brilliant duels. At last count, Djokovic and Nadal have met 58 times, in a combined nine finals at the four majors. The Serb and the Swiss had met fifty times between 2006 and 2021. These enduring rivalries have been game-changers.
Chris Evert vs. Martina Navratilova
Historians rank it as not only the greatest rivalry in tennis history, but the greatest in the sport. Between 1973 and 1988 they played 80 games, countless classics and 14 grand finals. Evert was masterful from the back of the court, while Navratilova attacked relentlessly. Fans rejoiced at the unique style and grace of two extraordinary champions.
Stefanie Graf vs. Monica Seles
No women's rivalry from the 1990s lived up to this one. They transformed the game with title round matches at all four majors, taking the sport to a new level. Seles hit the ball harder from both sides than any other woman before. Graf's forehand spectacularity and foot speed were unmatched. Her duels shone.
Pete Sampras vs. Andre Agassi
From 1989 to 2002, these two American stalwarts had a spirited rivalry that included five clashes in the final round of major tournaments. Sampras' composure on the court was complemented by Agassi's emotional personality. Sampras, the supreme serve-and-volley artist, beat Agassi, the brilliant baseliner, in 20 of 34 meetings, and fans flocked to watch his riveting encounters.
Billie Jean King v. Margaret Court
Fans who watched King and Court in the 1960s and 1970s enjoyed their matches. They went on the attack relentlessly and played the percentages unflinchingly. King was more creative, but Court was more grounded and highly disciplined. Court's extraordinary ability at the net caused King to call her "The Arm". Her skirmishes, most notably the epic 1970 Wimbledon final, defined an era.
Rod Laver vs. Ken Rosewall
Rosewall and Laver lit up countless stadiums with their professional tennis competitions in the 1960s. They played terrific matches early in the Open Era, most notably the back-to-back French Open finals in 1968-69, and an epic five-setter in 1972 at the Dallas WCT Finals. Rosewall's classic accuracy and Laver's shooting prowess were second to none.
Serena Williams vs. Venus Williams
Despite their understandable discomfort playing against each other, the Williams sisters adapted admirably, turning their big-shot rivalry into one of the greatest in women's tennis history. Of the 31 meetings they played between 1998 and 2020, nine were major tournament finals. His unrivaled speed, power and athleticism have captivated fans around the world.