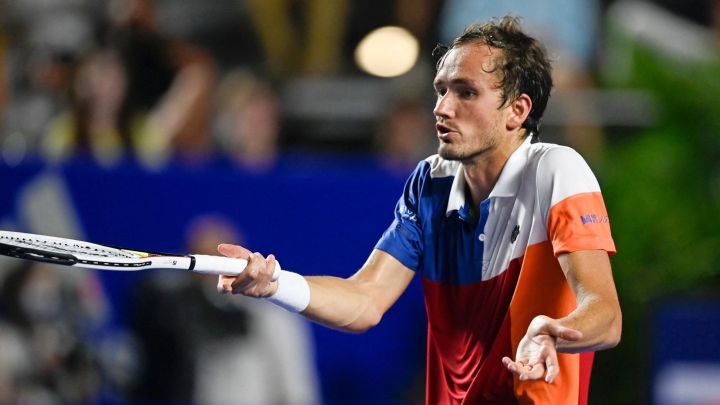 The tennis world has been left halfway in its response to the Russian invasion of Ukraine. This Tuesday the main organizations that govern this sport, at the time the International Federation (ITF), the men's circuit (ATP) and the women's (WTA) and the four Grand Slams (Australian Open, Roland Garros, Wimbledon and US Open) have issued a joint statement in which, in a certain way, they put themselves in profile before the situation.
The message is a 'no' to the participation of both Russia and Belarus, the Kremlin's main ally on European soil, in team competitions. But it is also a 'yes' to the attendance of tennis players from both countries in tournaments that are played individually.
Joint Statement by the International Governing Bodies of Tennis

⬇️

— ATP Tour (@atptour) March 1, 2022
The note begins with a show of support "to the people of Ukraine" and "to the many tennis players who have raised their voices and have taken action against this unacceptable act of aggression.". "We echo your calls for an end to violence and a return to peace," he adds. The agreed measures are detailed below.
These include the suspension of the mixed tournament, sanctioned by both the ATP and the WTA, which was to be played in Moscow in October, as well as all ITF circuit events on Russian and Belarusian soil. Also the cancellation "until further notice" of the affiliation of the federations of both countries to the ITF and the prohibition of their teams taking part in any team event, that is, in the Davis Cup and the Billie Jean King Cup.
On the other hand, the last point of the text establishes that, for now, players from Russia and Belarus "will continue to be accepted in international tennis events on the tours and in the Grand Slams", although they will not be able to do so "under the name or the flag" of their respective countries at the moment. In that sense, the WTA has already removed from its website the flags that appear in the rankings section next to the players of these nations. Something that the ATP has not done, whose number one today, it must be remembered, is the Muscovite Daniil Medvedev, who is accompanied in the world Top-10 by his compatriot Andrey Rublev.