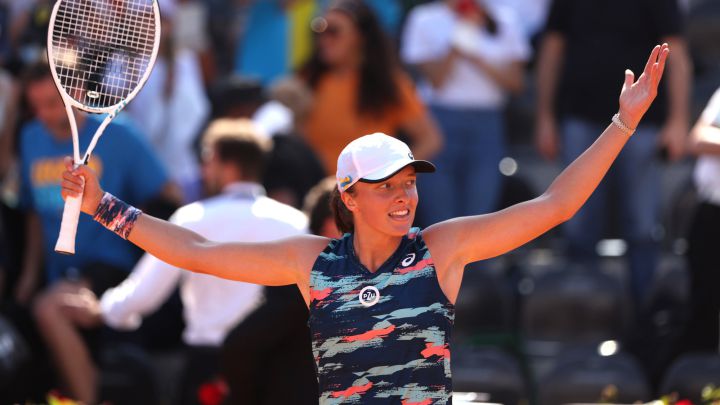 To find the last defeat of the Polish Iga Swiatek, it is necessary date back to February 16 this year. Since that match lost in the round of 16 in Dubai against Ostapenko, the number one in the world has already 26 wins in a row, this being the fifth best streak in the history of the women's circuit. The last of them came today, in the quarterfinals of the Masters 1,000 in Rome, against the Canadian Andreescu 7-6(2) and 6-0.
After his absence in Madrid, Swiatek continues with his very high level in Rome, where He has not yet given up a set and, in three games, he has already endorsed two donuts. The victim of the second of them has been Andreescu, who was the first Canadian to reach the quarterfinals in Italy since 1990 (Helen Kelesi). In the first set, the US Open winner put up some serious resistance, forcing the tie-break after breaking Swiatek's serve three times (Andreescu gave up her serve three more). The tiebreaker, in which the Pole was much more forceful, did too much damage to Bianca, which broke down in the second sleeve.
In this way, Swiatek already has 33 wins in final frames this year, more than any other player. Besides, his balance in WTA 1,000 tournaments when he wins the first set is already 29-0 throughout his career. Tomorrow's will be for Swiatek the fourth semifinals of the season in tournaments of this category, being the second youngest player in history to achieve this milestone, only behind Wozniacki in 2010. Her rival in this semifinal will be the Belarusian Sabalenka, who finally managed to beat the American Anisimova, who had won the first four direct confrontations. The fifth time was the charm for Sabalenka, who won 4-6, 6-3, 6-2.
Results of the WTA 1,000 in Rome