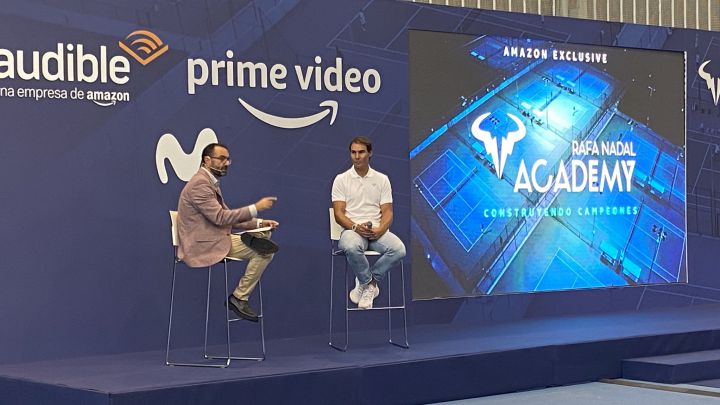 Rafa Nadal has lived this Wednesday a very special moment with the presentation of the Podcast produced by Audible and the video documentary made by Amazon Prime about the work and the work carried out at the Rafa Nadal Academy by Movistar, coinciding with the fifth anniversary of the opening of the venue.
Nadal, who continues his recovery from the foot injury that caused him to miss the second part of the season and tournaments such as Wimbledon, the US Open and the Tokyo Games, analyzed the successes that have come out of the Rafa Nadal Academy, where the recent junior US Open conquered by Daniel Ricón, trained in these facilities during the last two years, stands out. "It is exciting to see a success of a boy like Dani, it is always a reason for happiness. It is a triumph of his, because he works on it every day, but also of the team behind it. Before it was said that it was an individual sport, but now there is a great team behind it. "
Nadal also confessed to Edu García, Radioestadio presenter and host of this presentation act, that he is still in pain from the discomfort that he drags on his foot and ensures that, despite being a complicated time, he maintains the illusion to continue playing tennis at the highest level. "I'm fine, but I've been better, I'm still a bit sore in my foot. It's been a difficult time. But I have the illusion to improve and face this difficult path to continue doing what I want and be able to continue playing. In the script I was playing the US Open, Wimbledon, the Olympics … I wasn't lame today, but the scripts are there not to be followed to the letter. You have to know how to adapt to the circumstances and face what is coming. I have lived through incredible things and also difficult moments in the form of injuries and we have come through. The clock does not stop but I still have the illusion and I am going to do it again ".
Nadal also spoke of the satisfaction at seeing everything that has been achieved at the Rafa Nadal Academy and once again expressed his desire that all those who go there have a great experience and learn things that may be of value to them for the future. "I don't expect much, things are happening, I try not to predict things. You have to adapt. On a personal level and for all of us who have worked here, it is a great satisfaction to see what we have achieved. Seeing everything that is being done and all those who have been here living at the Academy is a great satisfaction for having created an environment in which the boys have the tools to continue fighting for their dreams of being professional tennis players in a family environment and with professionals who train you properly. I hope that as many professional tennis players as possible will come out of this Academy, but that everyone will have a very good memory from here and a learning that will be worth them for the future. "
The Balearic tennis player also made a reflection for young people, assuring them that they must learn to live with defeats and that the most important thing is satisfaction with the effort made to achieve the objectives. "Tennis is a sport of defeats, each week only one wins. The defeat is an important part of our day to day and you have to learn to live with it. It is a difficult part to accept. In a golf tournament you can say that You finish tenth, here you lose in the semifinals, in the quarterfinals, in the eighth or any other round. I think there is no greater satisfaction than having worked hard to achieve your goals. Whether it is achieved or not, the most important thing is happiness for having given everything to achieve it. "
Finally, Nadal wanted to thank the support of Audible, Amazon Prime and the authorities and members of the Rafa Nadal Academy by Movistar so that the work carried out in the venue can now be seen around the world through the Podcasts and the docuseries on video. "I want to thank the authorities, the media and those who make up the Academy. Also Amazon Prime, Audible and Movistar for having made it possible for us to have a docuseries that will be seen in 240 countries around the world. It is also good for Manacor and for see the effort of the guys and to explain how we work here. Many people have passed through here but this is the most direct way to reach all of them. It is a success to have this docuseries and I hope that the fans find it entertaining and that they understand the things that can be done in life through sport. It's a very nice project. "
Daniel Rincón: "I thank Rafa and the team for their support"
The last great success of a tennis player from the Rafa Nadal Academy took place on a huge stage, the US Open, where Daniel Rincón lHe held the title in the junior individual category. "This of the spotlights is something new for me, but I am getting used to it little by little," he assured, while he made a brief analysis of the final. "It was the best game of the tournament by far. I took the pressure off, I was only thinking about the final"
Rincón, who started in tennis "when he was 5 or 6 years old" did not hesitate to appreciate the work done with him at the Rafa Nadal Academy and believes that now he must face an even more difficult path. "It is a joy to have achieved it after two years at the Academy. This is everyone's credit. I am very happy but there is still a lot to do and a way to go. There is still a lot left and the road now is going to be more difficult. People like Munar, Ruud or Rafa Nadal make me have my feet on the ground "
Finally, the tennis player had words of praise for Rafa Nadal and the opportunity that he has given him during these two years at the Rafa Nadal Academy. "I thank Rafa and his team for the help they have given me. The support my idol has given me since I was little is incredible."