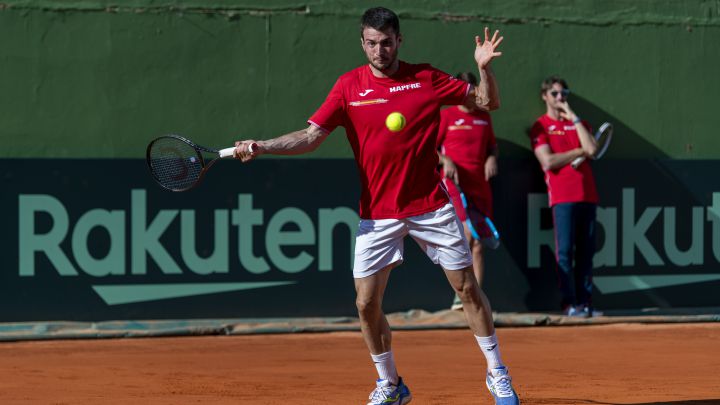 Pedro Martínez (Alzira, 24 years old), last Spanish ATP champion, winner in Santiago de Chile just a week ago, chatted with AS in Marbella before his debut for Spain in the doubles point of the tie against Romania, qualifying for the Davis Cup Finals. She has come a long way since 2020, she is top-50 and she still doesn't know what her ceiling will be.
Why did you decide to play tennis?
My parents moved to a house very close to the Alzira Tennis Club when I was six years old and I had been going there since I was three or four. So I remember my whole childhood there, with a racket in hand, playing tag or soccer, but always very close to tennis. Since I have use of reason I was there downtown.
When did you realize that you could be a good professional player?
Nacho, the coach I had at the beginning, when I was little, asked me if I wanted to go to Oliva, a nearby town, and practice on dirt tracks with more people. Some days he would go there and stand out from the other guys in the club. When I was 14 years old I was already going to an Academy and I began to be more for and for tennis. At 16 I went to CAR in Barcelona with the Spanish Federation until I was 19 when I started playing Futures.
Who were your first references?
The time of Ferrero and Moyá caught me very young. I was aware that they were there, but I didn't understand tennis. I began to understand it with Ferrer and with Nadal.
Was he trying to imitate his style?
I looked at them, but each one must have their own style, and even if you try to imitate others, it is very difficult. It is very motivating to see such good players that we have had in Spain, not only Ferrer and Nadal, but also Almagro, Verdasco, Feliciano… a lot that I could name in the vast tennis culture that exists in this country. You always try to take something from each one.
Was it difficult for you to take the step to professional, did you get desperate at some point?
I had a bit of a bad moment when I lost in my first Roland Garros qualifier (against Salvadoran Arévalo in 2018), because it was a match that I had won and I was tired in the head after competing in a lot of Futures. I stopped for two weeks and then I played hard again and went higher. Anyway, I'd say it's all gone pretty well. I have not had an explosion like Carlos Alcaraz's, because that only happens to chosen people. I have always gone at an average of a remarkable without ever stopping at a station for a long time, burning stages at a medium-high pace. I think that being 50 in the world at 24 years old is very good today.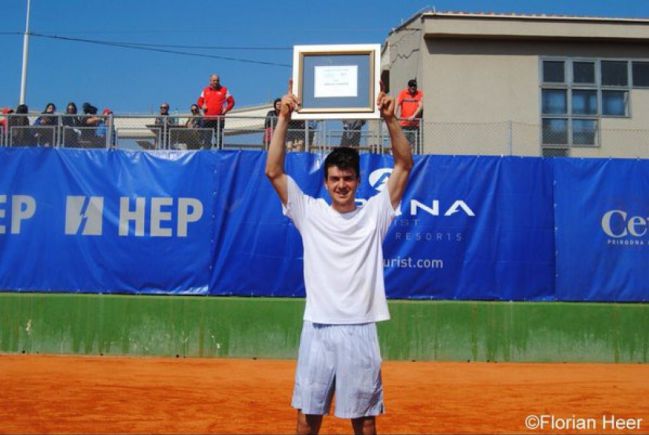 Is it more difficult to break into the top-100 or stay?
Getting into the top-100 is difficult, because you have to win a lot of Challenger matches or pass the Grand Slam qualifiers, which was my case. Every week you have two or three extra matches to get into the main draw. When you get into the top-100, the matches are more expensive to win, but the moment you win the points reward is higher. With less won you can add more. But, on the other hand, you also have to be prepared to go from playing three or four each week to having weeks of one or two. You need more level.
What is the key to your qualitative leap in the last two years?
The year in which the pandemic started, I started playing very well. I won a match in the Australian Open and some in South America, I had victories in all the tournaments. I felt good, because I saw that I could play with the top guys, that I was at their level. But we all had bad luck with the stoppage of the circuit and the ranking. With the good streak that I had and how things were turning out for me, I think I would have continued to climb positions. Then I played well again, but what happened with the ranking benefited me in some ways and hurt me in others. I think since 2020 I have been fine. Last year I made the final in Kitzbuhel (he lost it against the Norwegian Ruud, a top-10) and in 2022 I have won matches in every tournament. It was costing me to accumulate more than one or two a week, but with Gerard (Granollers) I competed and left everything to me. If he continued down this path, he had faith that the results would come. And look where, last week the flute sounded in Chile.
To what extent did winning that title liberate you?
It was very important for me, because I made a good jump in the ranking. Against Munar in the second round, I served to win and in the end I had to resolve it in the third set. Against Hanfmann I did my best performance afterwards with a double 6-2, and in the semi-finals and the final I had to come from behind in difficult conditions. What I did best those two days was compete well and get ahead in matches without feeling well or playing my best tennis, something very positive to learn to face those situations.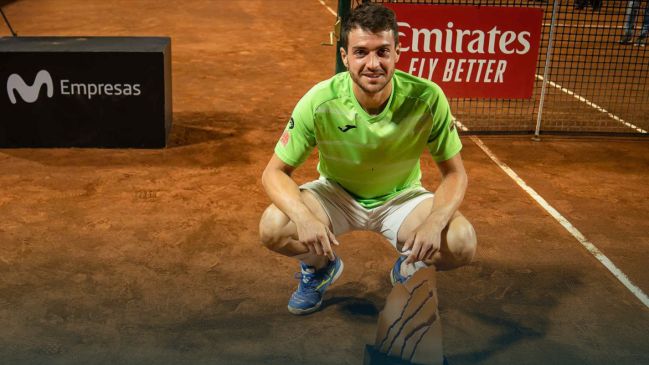 In full speech at the award ceremony in Santiago de Chile, tears came to his eyes when he recalled that he had just had a difficult few months. What happened?
That my team broke up in December. I was with Dani Gimeno Traver and Sergio Gallego. And Dani told me that he had a great opportunity to go with Roberto Bautista. I stayed a bit with one hand in front and one behind. Everything was ready to start the following year and I did not expect that at all. It was somewhat difficult to face, especially due to the time of year, two weeks before the Australian Open. I was left without a team and that is why I give a lot of value to Gerard's arrival, because he was with his brother Marcel in a good position, he had a top-10 doubles position and the conditions were very good. I'm glad he decided to bet on going with me at that time and that's why I got excited. Those were difficult months in which I was doing things well and at ease. For how they could have gone, the truth is that I am delighted with the change and for that I thanked Gerard, because it was a beautiful moment after all.
What expectations do you have now?
I don't like to set expectations. I prefer to go day by day, working, knowing what I have to do, as I have done until now. With that I want to touch my ceiling, which I don't know what it will be. With that, if I have been the 20th in the world, the 25th, the 30th, the 50th or the 130th, I am left with a clear conscience because I have given everything I had. That is the greatest prize one can give oneself.
What do you have to have in today's tennis to succeed?
Tennis has changed a lot in recent years. I think a lot is going to the physical issue. Everyone is very well prepared, people are putting up with more and more and I am surprised to see players of ages that were previously unthinkable to perform at such a good level. You have to be prepared both physically and mentally every week, because this is getting more and more difficult, people are very hungry and there is a lot of competition.
What would you say is your strength as a tennis player?
I am a player who has variety, who does not always play the same way. I can adapt well to playing on all surfaces and when I go out I try to compete however I can and giving what there is that day one hundred percent, accepting the conditions and, within what there is, getting the best performance possible. I try very hard to take advantage of everything there is that day to get the most out of it.