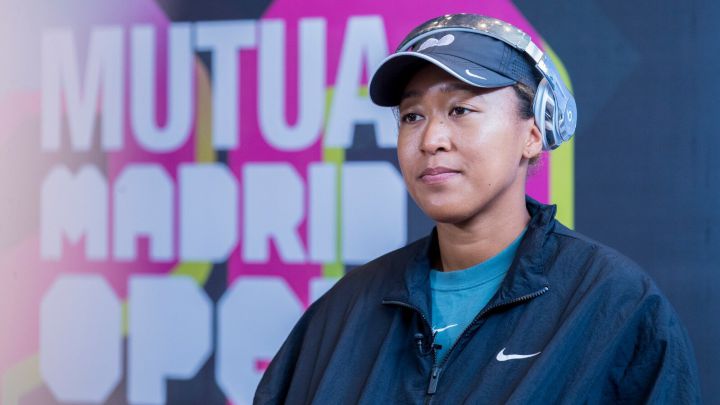 Naomi Osaka lands in Madrid with a poster very different from that of other years. Without going any further, in 2021 he was the number two seed. This time, the Japanese entered the tournament with an invitation from the organization, and her 36th position in the WTA ranking does not allow her to enjoy the privilege of being seeded. "Now I try to embrace my mistakes, not be so hard on myself. I keep learning day by day"reflected Osaka in the preview of the Mutua Madrid Open.
The four-time Grand Slam winner continues to look to get back to her best after a losing streak, struggling both on and off the court. "Not every day is perfect, I work mentally by talking to my therapist at least once a week. Many sad moments in my career have made me improve as a person. Now I try to be more open to all possibilities," explained Osaka, who tries to get away from the noise around her. "I do mental exercises and I try not to spend a lot of time on Twitter, for me it's more negative than Instagram. Now people can say bad thingsbut I try to continue being who I am," the Japanese told the media, who a few weeks ago suffered an incident in Indian Wells with a spectator who rebuked her. "At another time it wouldn't have affected me, but then it did. I try to see it from his point of view, I think about why he says that to me and why I let it affect me."
Taking advantage of her stay in Spain, Osaka was full of praise for two Spanish players who, in addition, dominate clay, a surface on which the Japanese suffers. "I noticed him and I think I've stolen something from Rafa Nadal's repertoire on clay, I've trained it and it can go very well or very badly. Since I've been doing it, it's going well for me," warned an Osaka open to learning. "I want to look at the good players on clay as they train so I can improve." About Nadal, Osaka also joked that, in his training sessions, he now tries left-handed shots, just like the Spaniard. "Every child has ever tried to be Nadal"he said between laughs.
But it was not Nadal, but Carlos Alcaraz who got the best words from the tennis player. "I want to see him here in Madrid. I don't know if I'm going to be criticized for saying this, but I feel like it's raised a lot of buzz around the ATP tour, and that's something that hasn't been seen for a long time."expressed the one who was a finalist in Miami, where Alcaraz won his first Masters 1,000. "I don't even think about his age, many times I forget. His style of play is great, since he beat Tsitsipas at the US Open I have seen his tournaments, and his growth is exciting for everyone", said Naomi Osaka, who will debut in Madrid this Friday against the Russian Potapova. "I want to have fun on the court and get to Roland Garros well. Of course I hope to win, but a lower target is that I hope to reach the semi-finals here or in Rome."