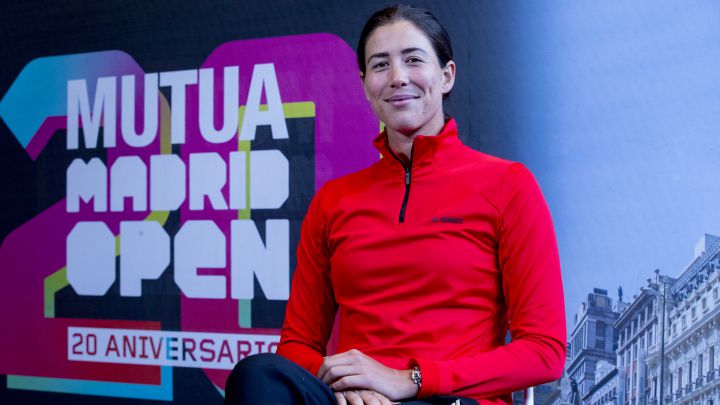 Smiling and very calm, Garbiñe Muguruza appeared this Wednesday at the media day of the Mutua Madrid Open to attend to the journalists in a massive round table. After resting for a few weeks since he announced that stopped due to physical discomfort days after falling to the first exchange against Alison Riske in Indian Wells (at the beginning of March), the Spaniard arrives at the Spanish WTA 1,000 with renewed spirits. On Friday, she will face Australian Ajla Tomljanovic in the first round.
Sensations: "Well, I felt good, with a good feeling and fresh, not having played tournaments before. I would love to play well here and every year I come with that mentality, working hard, so let's see if this year there is finally a click."
Low Swiatek: "I had no idea, but she was playing a lot and winning a lot. She's the best player right now, but we'll see."
inactivity: "When you haven't competed for so long it always shows, but I'm glad I made this decision. I think I'm going to come back fresher. I've been doing Indivas treatment, hot-cold, a lot of work with the physio because I had a problem with the tendon and had to deflate it. It is a normal problem among tennis players, but it requires a period of rest and not playing so that it does not continue to swell. It is better, because with treatment and rest, the body immediately appreciates it and get back to where you need to be.
Rest: "I've coped well, because my body needed it. I'm happy with the fact of resting, training and being with my team without the day-to-day competition; now, I want to return to competition".
Pressure: "Madrid has always generated it for me. I consider it to be a very important tournament for me, because it is the only one we have, so for those two reasons one already feels more pressure".
clay court: "It suits my conditions, it's where I've played the most since I was little and I've put in a thousand hours on this surface. I'm originally a clay court player."
Spanish tennis: "It's a great time. Spanish tennis has always dominated and now more than ever, there is so much variety of ages, types of game and gender, men and women. So now, Spain in power."
Mentality: "I have worked on it more than is usually commented on. Especially the fact of refreshing and clarifying the objectives a bit, missing the competition because the calendar is very long and very hard, and sometimes you feel a bit overwhelmed by the amount of tournaments there are. Sometimes it's good to skip one or two, in order to go back to training well and to recover well, and to face the tournaments that come with better energy. It's not about following a schedule because you have to do it".
Goals: "They have always been the same tournaments, but I am referring to tennis goals, how to plan matches, how to deal with difficult moments, to set new goals for the clay court season, because last year did not go very well… Always They are the same objectives, on a large scale, but every day there is always a mini-objective.
Playing style: "I've always been aggressive, really. My way of playing is always going to be the same, to dominate and be aggressive. Maybe I should better control the emotion, the pressure and the desire for it to have the opposite effect, but my way if it is, it will be there, always the same".