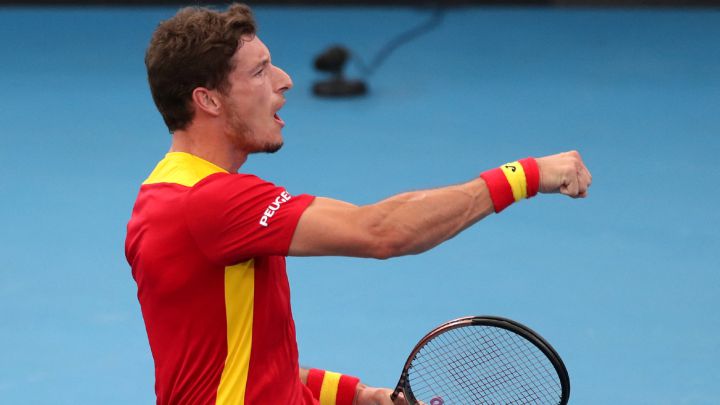 The Spanish ATP Cup team, made up of Roberto Bautista, Pablo Carreño, Alejandro Davidovich, Albert Ramos and Pedro Martínez, with Tomás Carbonell as improvised captain due to the loss of Daniel Gimeno Traver due to COVID, they had a different New Years Eve in Sydney. In fact, they missed it., because the tie against Chile began at 10:00 Australian time and at midnight everyone was already resting in their rooms to face a commitment that they carried out brilliantly and without many problems.
"We were very asleep at midnight. We're still a little jet lagged. We had the tournament dinner, and the whole team was together. But we had to get up very soon. We have experienced the grapes of Spain more on the track ", he told AS Carreño. And Bautista endorsed it: "I have lived them on the phone with my wife and my son, who wore the typical New Year's Eve gossip. The tie started very early. Pablo was already warming up at 8:30, I at 9:00, so we had to set the alarm at 6:30. We went to bed very early. "
Regarding their respective preparations to reach this tournament by country, the evaluations were a little different, although they agreed on the aspect of the need to play more games to reach a good peak of form before the Australian Open. "In the preseason I have not been able to train as much as it would have cost me, but we still have time. For me, these first games will continue to be preseason and to gradually adapt to the rhythm of the competition, to the rhythm of the game. It's always a bit difficult for me to start the years, to adapt to the heat of Australia. But this time I was playing better and better and my attitude was always good, which is fundamental. As for the game, I was doing better and I am sure that in the next matches I will notice myself better, with less nerves and more confidence, "said the man from Gijón, who suffered a little more than necessary to overcome Tabilo.
"He had four very good weeks at home"
The Castellón, who was at a high level against Garín, explained his start of the course as follows: "After having the misfortune of not being able to play the Davis CupFrom having an untimely injury at that time, I was able to prepare well and do four very good weeks of training at home. I'm in a good rhythm from hard work. It's always hard to start and you have to pick up the sensations little by little ("You haven't noticed much, eh," Carreño interrupted him). Let's see if we can have a good tie against Norway. Let's see if we can put the taco in them. "