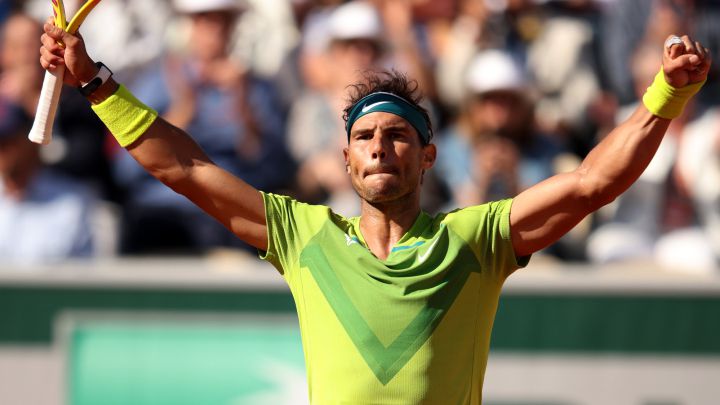 After winning in three sets and with good feelings at Roland Garros against the Dutchman Botic van de Zandschulp, Rafa Nadal spoke to the media and inevitably he talked about the fact that Toni Nadal, his uncle and former coach, is now advising his next opponent, Felix Auger-Aliassime. However, the technician will not sit in the box of either of them. He will watch the game on television if they don't give him a grandstand ticket.

Tony Nadal: "No, I already spoke to Toni after my match. I know they're going to ask me, but for me it's very simple. He's my uncle. I don't think he wants me to lose, without a doubt, but he's a professional and he's with another player. I don't know what's going to happen, if he's going to stay in the box or not, but I don't care. I don't have a problem with that. So it's not a story at all for me. I know what the feelings are between us. I know he wants what's best for me. Now he's helping another player. But honestly, for me, that's zero problems, and I know he wants what's best for me."
Match with Auger-Aliassime in Madrid: "Well, he's one of the players in the best form on the circuit, without a doubt. He's fourth in the race, he beats me, and he's a top-10 in the rankings. It's the round of 16. I know I have I have to play at a very high level to have chances to move on. It's going to be a good test. In a way, that's what I need. Today was a very good test too, and a very positive one, because I was able to play my best match of the tournament so far, without a doubt. For two and a half sets I was playing at a very positive level. That is very good news for me, to go on court tomorrow, to practice, knowing that today I was able to raise my level. It's time tomorrow to confirm that in practice and keep working on specific things. To try to be ready for the past."
Night sessions and changes at Roland Garros: "I don't like night sessions on clay courts. I already said it the other day. I have it very clear. I don't like to play on clay courts at night, because the humidity is higher, the ball is slower and there can be very difficult conditions. heavy, especially when it's cold. There is a big difference in tennis on clay at night and during the day. The rest of the things are just amazing. The work that Roland Garros and the French Federation did to elevate this tournament with the most high standards possible is just fantastic. So well done and thank you for creating constant improvement over the years. I think the new center court is amazing. The Simonne Mathieu is beautiful too. And the plan to move forward is there. I'm very happy to see the biggest tournament on clay improve so much. That's great news."
How Toni Nadal started with Auger-Aliassime: "He doesn't need to ask me anything (smiling). He's old enough to make his own decisions. I can't thank him enough for all the things he did for me over the years. I have no problem with any position he has now. I want him." best for him, and he wants the best for me. We are family more than anything else. A family that stays together all the time. We are in the same town. We spend time together at the Academy. We live incredible emotions together. So no he's just a guy. He's more than that."
Zidane and the Champions League final: "I didn't see him, but I knew he was there because I heard people name him all the time. So I guess he was, but I didn't get a chance to see him after my match or talk to him at all. Tomorrow, let's see how I feel. I wake up, because, with my body, you never know if there will be surprises. But if nothing happens, and I hope not, and if I am able to train properly tomorrow, my intention and my goal is to be there".
First week: "Since I got here there have been better and worse things. I'm not a big fan of saying that 'I'm where I wanted to be'. That seems like a milonga to me, because in the end what has to happen, will happen. The first three The matches have been positive, all three sets, and especially today I have taken a step forward. For two and a half sets, today have been my best minutes on court since I have returned from the rib injury, which is a positive news. I've had fun playing, which is the most important thing at this point, and I've managed to play at a moderate pace and doing damage with my drive, opening up the court well. It's been a relevant step forward and I'm happy to confirm this advance. It is a day to be very satisfied".
Auger-Aliassime Improvement on Ground: "This is a question for Felix, I can't answer it. In the end there are some results that are there, and he is fourth in the race (annual race) and in the top-10. He has a coach who is full time with him, and Toni part-time. I'm happy that things are going well for him, although I hope they don't go so well for him the next day. He's a very correct, simple boy and I like things to go well for good people." .