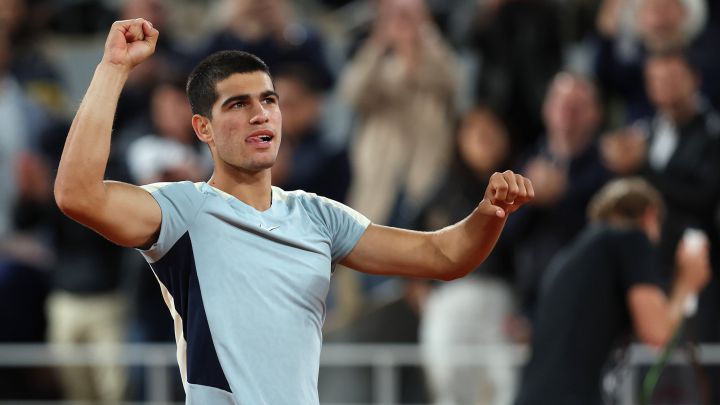 Shortly after beating Sebastian Korda in the third round at Roland Garros and qualifying for the round of 16 for the first time (he will face Russia's Khachanov on Sunday), Carlos Alcaraz attended the media in the mixed zone of the press room.

What makes you different from other players?: "I would say I'm aggressive all the time. It doesn't matter if I'm losing, winning or in a difficult moment or match, I keep my style the whole match."
Challenge to dethrone Djokovic and Nadal: "Well, I already beat them when I played one of them. I think I'm ready. It's different to play a Grand Slam than a Masters 1,000 or another tournament with best-of-three-set matches, but I'd say I'm ready."
The Golden Ticket (referring to the Charlie and the Chocolate Factory movie award): "Well, if I win this tournament I'd say I'd get the golden ticket or being number one in the world."
Ferrero Help: "I grew up with him, he made me the player that I am right now. So I would say that he has taught me the intensity that I have to maintain for the two, three hours to be able to play in the Grand Slams or these matches against the best players in the world, keep focusing on each tournament, each training session, one tournament or in between. I stay focused."
Khachanov: "I only trained with him once, but I watched his games so I know it's going to be a tough game. But at the same time he's a tough opponent and I like those games."
Rematch: "Yesterday I watched the game in Monte Carlo to try not to repeat the same mistakes, because I knew it was going to be difficult. I knew I had to dominate, not let him dominate me, and that's what I've done from the beginning."
Play at night: "It's also nice to play in the night session, with the stands like that. People also love to watch games at night, but at the same time it's complicated because you start at nine at night and it's the best of five, so you end up late and you don't have time to recover so much".
Call of attention: "The game against Albert (Ramos) was very long and I had to go out with my antennas on, and try to be as aggressive as possible. I came out very focused".
Spanish plenary session at Roland Garros and Champions League final: "Today has been a great day for the Spaniards, and we hope that tomorrow will be too. I've always said that I'm from Madrid, and I'd be excited if he won".
Learning: "The match in Monte Carlo was going to help me for the following tournaments. It was the first match on clay, without many hours on the court, and it helped me to know what I had to improve. From time to time, losing is good".