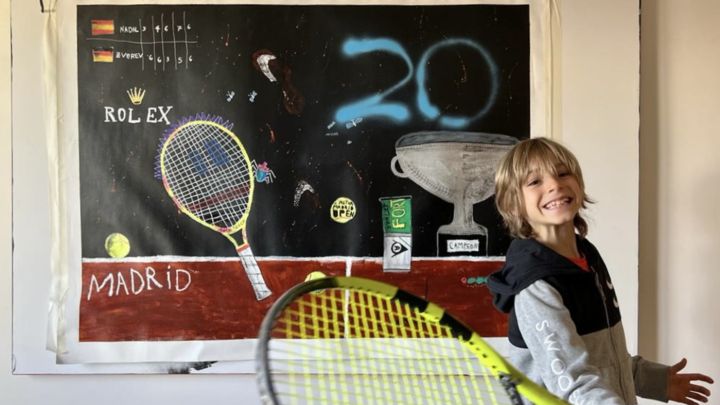 At only eight years old, Leonardo Rodríguez-Pastrana Caldarola has painted the picture of the 20th anniversary of the Mutua Madrid Open, that reflects the original and innocent vision of the tournament of the young artist.
At the age of three, Leonardo began to fill the cabinets of his house with drawings and at four he painted his first painting. Since then, it has grown to become a reference in the art world. His works, cheerful and colorful, they have conquered half the world, exhausting itself in each exhibition that it celebrates. Considered by many experts to be the heir to Jean-Michel Basquiat, who also started in art as a child and painting the walls of his house, Leonardo has signed the painting that celebrates the 20th anniversary of the Mutua Madrid Open, and that It will have an important solidarity purpose.
Leonardo's work can be purchased through the great charity auction of the 20th anniversary, which will be held in close collaboration with Durán Arte y Subastas. The auction will be published online on April 1 and will be held on April 20 with a face-to-face event, which will take place at Durán Arte y Subastas (Calle Goya, 19 -1º) where all the lots will be on display from April 1. The proceeds from the auction It will go entirely to the DORoTEA Program of the Functional Therapies Unit of the Niño Jesús University Children's Hospital.
The DORoTEA Program faces the detection and orientation to patients with ASD and eating difficulties, in order to improve their quality of life. Its objective is to identify patients diagnosed with ASD and intellectual disability with eating disorders and provide their families and caregivers with useful strategies to facilitate the introduction of solid foods to the diet of people with ASD, improving eating habits and their quality. of life.