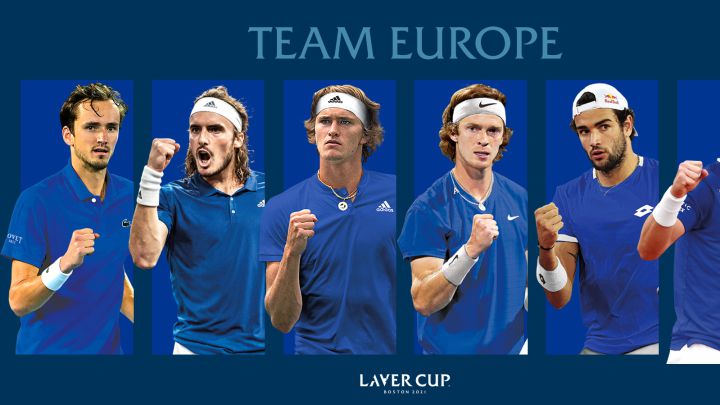 The Laver Cup, Despite the significant absences of Novak Djokovic, Rafa Nadal and Roger Federer, it celebrates its fourth edition this season. The Boston TD Garden will host this 'weekend of the stars' of tennis (from 24 to 26 September) where teams from Europe and the Rest of the World will face each other in passionate duels to see which team dominates the tennis scene for another year.
Team Europe
The European team will be led by number 2 in the ranking, Daniil Medvedev. The Russian will be accompanied Stefanos Tsitsipas, Alexander Zverev, Andrey Rublev, Matteo Berrettini and Casper Ruud.
World Team
The rest of the world as a whole will be led by Felix-Auger Aliassime as the best classified in the ATP ranking (11th). Together with him they will form Diego Schwartzman, Denis Shapovalov, Reilly Opelka, John Isner and Nick Kyrgios.
Calendar
Friday, September 24: 7:00 pm, Match 1 (individual) followed by Match 2 (doubles).
Friday, September 24: 01:00 hours, Match 3 (individual) followed by Match 4 (doubles).
Saturday, September 25: 7:00 pm ,, Match 5 (individual) followed by Match 6 (individual).
Saturday, September 25: 01:00 hours, Match 7 (individual) followed by Match 8 (doubles).
Sunday, September 26: 6:00 pm, Match 9 (doubles) followed by Match 10 (individual), Match 11 (individual), Match 12 (individual). If the points are still even, a deciding match of doubles to one set is played.
Format
Both the single and the double are matches to the best of three sets with advantage. The third set is a 10-point Match Tie-Break.
Each victory will earn one point on Friday, two points on Saturday and three points on Sunday. If the points reflect an equality of 12 on Day 3, a set of doubles with advantage and tiebreak will decide the Laver Cup champion. The winning team must reach 13 points.
Each player will play at least one individual match during the first two days. No player will play more than two individual matches over the three days. At least four of the six players must compete in doubles. No combination of doubles must be played more than once, Unless the decisive match on Day 3 must be played. The matches must be determined before the first match of each match day by exchanging line-ups between the captains.