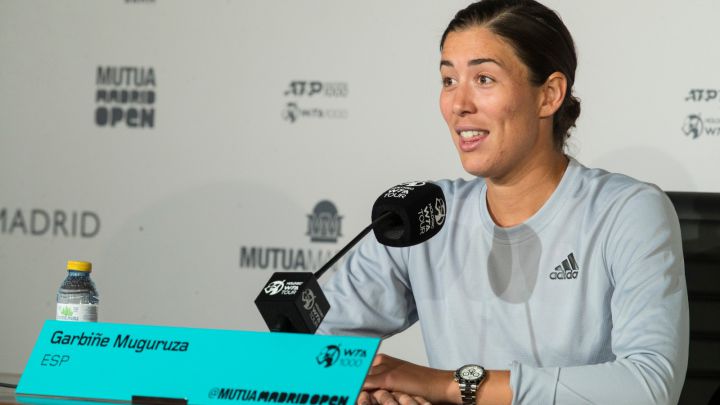 Garbiñe Muguruza appeared at a press conference after beating Ajla Tomljanovic (7-5, 6-2) in her debut at the Mutua Madrid Open. The Spanish, who played this Friday her first official match since March 12, is back and wants to put on a good performance in Madrid, where she has historically been far from the final victory. Besides, He also analyzed her next round match against the Ukrainian Anhelina Kalinina.
Back on the slopes: "It had been a long time since I competed and I had logical doubts, it's another surface too. I'm happy, I went out without thinking much, with little expectation because I expected a difficult game. The last time we played she beat me. I wanted to play a lot of points long, I have a lot of experience playing on clay and I like it. I'm happy with the result".
Stop: "I felt I needed it. I had pain in many places, it was accumulating. I told my team that we should take at least 10 days off so that my body can recover naturally. As soon as I stopped, my shoulder got better, so did my leg and my back, everything started to be where it should be. I also said that we needed to focus more on clay. I felt that it was okay if I skipped one or two tournaments if I'm going to come back feeling better afterwards."
Play in Madrid: "It's the only tournament in Spain and there's a lot of pressure because you only get one chance to shine. This year I told myself otherwise, it's a great tournament and I wanted to go out there and play my best tennis to see what would happen instead of putting on that backpack. This Once I absorbed the energy of the fans more than on other occasions, other years sometimes the nerves surfaced"
Match against Kalinina: "I've seen her play once, not much. If she's beaten Stephens, who's a ground player, she's played a good game. I'll try to find out as much as I can in the next 24 hours to figure out how to play her."
Victory that liberates: "I doubt that I will come out more relaxed in the next match. Yes, I was very nervous in the corridor before leaving because I like this tournament a lot and I want to show my talent. I don't think I will feel better, it is clear that it is a good match in which the important points I have played well and that helps to face the next one".
Badosa takes the pressure off: "I think so, that there is another number two Spanish player is spectacular. Maybe now there is shared attention, I like that she is close to the top. That there is so much Spanish representation in the top-10 at the moment is something that I think has never gone before."
Win a big title or be number one: "When I was little I always dreamed of being number one and that was the only thing I thought about. I also wanted to win big titles, but number one was like an obsession, I don't know why. When I won a Grand Slam it was a very different feeling than being number one because you can touch it, it's a win you can take home. It's clear that being number one is something historic, but there are so many changes in the women's circuit that I don't think it's savored that much. Winning a Grand Slam is everyone's dream player and you can take him home, that's my opinion.