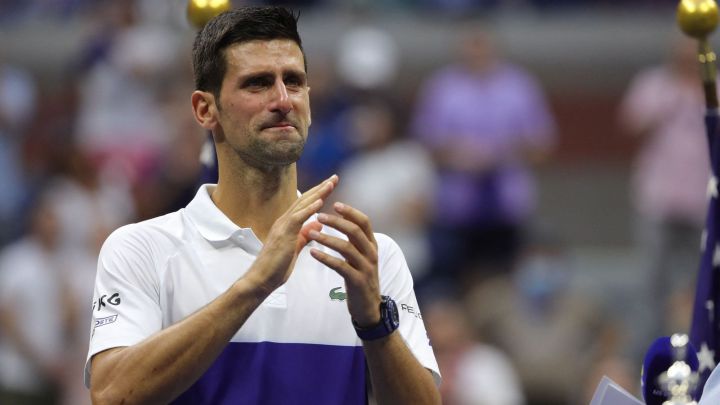 Novak Djokovic has once again demonstrated that sportsmanship that he usually shows on numerous occasions being one of the great standards of tennis. Despite his defeat in the US Open final against Daniil Medvedev, the Serbian did not hesitate to pay him several compliments after a performance that prevented the Serb from making history with the conquest of the Grand Slam.
However, Djokovic's compliments have not stopped there, since the Serbian wrote for the first time this Monday on social networks after his defeat in New York and his first message was dedicated to Emma Raducanu and Daniil Medvedev, both US Open individual champions. "My congratulations to the two champions. An incredible fairy tale in the female box with two teenagers playing the final. Emma, ​​you are fantastic. Daniil, you absolutely deserved your first Grand Slam title. Well done! I applaud you ", wrote Djokovic, who finished his message in Serbian.
Congratulations to both Champions. Amazing fairytale story on woman's side with 2 teenagers competing in the finals. Emma you are fantastic 👏🙌 Daniil, you absolutely deserve your first Grand Slam title Молодец! Аплодирую 👏 #USOpen pic.twitter.com/cw0h7UXNTN

– Novak Djokovic (@DjokerNole) September 13, 2021
Medvedev himself, very active on social networks after his victory, thanked the Serbian for his congratulations and even uploaded a hug photo that they both gave after the game with this comment: "My respects to this champion!", With mention of Djokovic.
Medvedev also had words of affection for the British Emma Raducanu, with whom he coincided this Monday at an event in New York, highlighting the revelation that has been in the tournament. "Imagine that you are 18 years old, you play your fourth professional tournament, you have only won $ 25,000 before … And now you are a US Open champion! Amazing Emma Raducanu." An example of sportsmanship on the part of Medvedev and Djokovic in both victory and defeat.