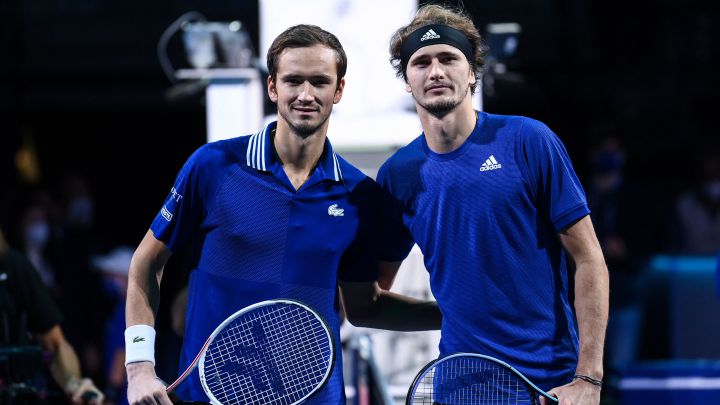 Although there are still Davis Cup Finals (November 25 to December 5) As the culmination of the season, the ATP calendar came to an end last Sunday with the Masters held in Turin. It is time to take stock. And it is inevitable to highlight three names that have shone with their own light this season: Novak Djokovic, Daniil Medvedev and Alexander Zverev. It is nothing new that the Serbian is among the best at the end of each campaign, but it is worth noting the step forward that both the Russian and the German have taken this course, who have tightened the pegs against the Serbian at different times despite the absences of Rafa Nadal and Roger Federer for much of the year.
As for Djokovic, his performance in 2021 has been honorable. Three Grand Slams (Australia, Roland Garros and Wimbledon) to equal the all-time record of Federer and Nadal (twenty), Masters 1,000 of Paris-Bercy and the ATP 250 of Belgrade, for a total of five titles. As if that weren't enough, he also played in the US Open final, beat Nadal for the second time on Paris clay, broke Federer's record for weeks as number 1 and made sure finish the year at the top of the rankings for the seventh time in his career, breaking the tie with Pete Sampras, something unique in tennis history.
As for Medvedev, the Russian raised his tennis level notably this season. After staying on the verge of winning the US Open in 2019 against Nadal, the Moscow man finally broke down the barrier of the majors by raising the title precisely in New York against Djokovic, depriving the Serbian of completing the annual Grand Slam challenge. To his first 'big' he added three other titles (1,000 Masters of Canada, Mallorca and Marseille) that serve him to finish the season as number 2 in the world for the first time, not far from a Djokovic whom he pressured until the final of Paris-Bercy (he also lost the battle for the title against the Serbian in Australia and the ATP Finals against Zverev).
Last but not least, it should be noted that Zverev's campaign is not far behind at all. The German has been, for the first time in his career, the leader in victories (59) and titles at the end of the year (6), where his Olympic gold shines in the Tokyo Games and the ATP Finals won for the second time in his career. All this has served 'Sascha' to equal his best position in the ranking (3rd, which he already held in 2017) and to be the first German in the top-3 at the end of the year since Boris Becker in 1994. The one from Hamburg is still resistant to the Grand Slams, but his reliability and consistency in the game (how David Ferrer's hand shows) have increased in recent months.
In short, if we review what the ATP defines as 'great titles' (Grand Slams, Masters Cup, Olympic Games and 1,000 Masters), between Djokovic, Medvedev and Zverev they have only missed four Masters 1,000 (Norrie in Indian Wells; Hurkacz in Miami; Tsitsipas in Monte Carlo; and Nadal in Rome) in this 2021. Everything else they have won: the four Grand Slams, the 1,000 Masters in Madrid, Canada, Cincinnati and Paris, the Olympic Games and the ATP Finals. The new 'three tenors' of tennis …