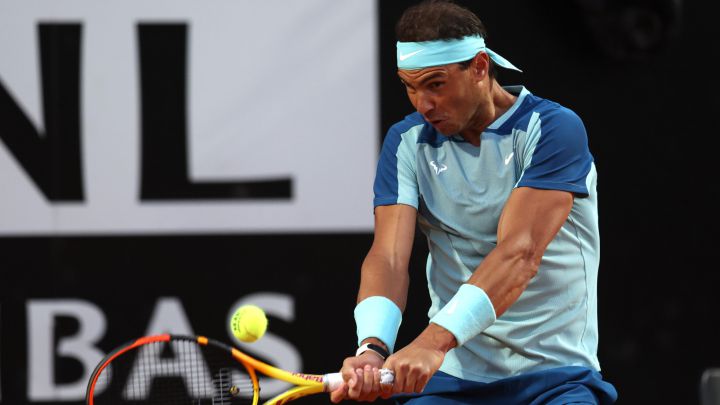 The title at the Masters 1,000 in Rome has also allowed Novak Djokovic to reach Roland Garros as the leader of the ATP ranking with even more difference if possible. The increase in points of the Serbian is one of the numerous novelties that the ATP ranking leaves us this week.
Djokovic begins his 370th week at the top of the ATP ranking and does so with 8,660 points, 400 more than last week. and leading the Russian by 680 Daniel Medvedev, who did not play in Rome and is second with 7,980. The German completes the podium of the classification Alexander Zverev, third with 7,200.
In fourth position this week appears the Greek Stefanos Tsitsipas, which gains 420 points compared to last week after reaching the final in Rome and standing with 6,170 points. Tsitsipas' rise is also due in part toRafa Nadal's fall this week. The Spaniard's tough defeat against Denis Shapovalov due to his foot discomfort has caused him to lose 910 points this week (he defended 1,000 as champion last year) and now he appears in fifth position with 5,525 points.
Behind Nadal, and appearing on the horizon, appears the also Spanish Carlos Alcaraz. 'Carlitos' does not lose or add points this week by resigning from Rome and remains in sixth position in the ranking with 4,770 points, 755 points behind Nadal. Completing the Top-10 this week are Andrey Rublev (seventh with 3,945 points), the Norwegian Casper Ruud, who climbs two positions to 8th with 3,940 points; the Canadian Felix Auger-Aliassime (ninth with 3,850) and the Italian Matteo Berrettini, who closes the Top-10 with 3,805 points.
This week the Spanish also resist in the Top-100 Pablo Carreño (17th with 2,135 points), Roberto Bautista (19th with 1,903), Alejandro Davidovich (28th with 1,400), Albert Ramos (42nd with 1,071), Pedro Martínez (43rd with 1,070), Pablo Andújar (83rd with 746), Carlos Taberner (88th with 720) and Jaume Munar (91st with 710).
ATP Rankings as of May 16, 2022
1. Novak Djokovic (SRB) 8,660 points
2. Daniil Medvedev 7,980
3. Alexander Zverev (EFA) 7,200
4. Stefanos Tsitsipas (GRE) 6,170
5. Rafael Nadal (ESP) 5,525
6. Carlos Alcaraz (ESP) 4,770
7. Andrey Rublev 3,945
8. Casper Ruud (NOR) 3,940
9. Felix Auger-Aliassime (CAN) 3,850
10. Matteo Berrettini (ITA) 3,805
———-
17. Pablo Carreno (ESP) 2,135
19. Roberto Bautista (ESP) 1,903
28. Alexander Davidovich (ESP) 1,400
42. Albert Ramos (ESP) 1,071
43. Pedro Martinez (ESP) 1,070
83. Pablo Andujar (ESP) 746
88. Carlos Taberner (ESP) 720
91. Jaume Munar (ESP) 710
Tsitsipas overtakes Alcaraz in a Race led by Nadal
The Masters 1,000 in Rome also leaves us with significant news in the Race To Turin, in search of one of the eight places for the Nitto ATP Finals in Turin. Rafa Nadal continues to lead the standings with 3,620 points while Stefanos Tsitsipas climbs to second position with 3,490 points after reaching the final in Rome. The rise of Tsitsipas causes the fall in the table of Carlos Alcarazwhich this week appears third with 3,460 points, only 30 behind the Greek.
This week they climb positions in the Felix Auger-Aliassime race, which is fourth with 2,025 points; and Alexander Zverev, fifth with 1,980 points, while Andrey Rublev, Daniil Medvedev and Taylor Fritz close the list of eight qualifiers. A Top-8 that Novak Djokovic is dangerously close to, who after his victory at the Masters 1,000 in Rome climbs 18 positions in the Race to be tenth with 1,610 points and just 155 points shy of the eight provisional finalists for the ATP Finals.
Race To Turin on May 16, 2022
1. Rafael Nadal (ESP) 3,620
2. Stefanos Tsitsipas (GRE) 3,490
3. Carlos Alcaraz (ESP) 3,460
4. Felix Auger-Aliassime (CAN) 2025
5. Alexander Zverev (ALE) 1980
6. Andrey Rublev 1920
7. Daniil Medvedev 1,900
8. Taylor Fritz (USA) 1,765
9. Casper Ruud (NOR) 1,615
10. Novak Djokovic (SRB) 1,610
Swiatek continues to lead, Badosa remains on the podium and Muguruza resists
The WTA 1,000 in Rome leaves us with no significant changes in a WTA ranking in which Iga Swiatek adds another week to the top of the ranking after her victory in Rome with 7,061 points. The Pole maintains an advantage of 2,150 points over the Czech Barbora Krejcikova, second with 4,911, while Paula Badosa resists one more week on the podium in third position with 4,770 points, with only 44 points of margin over the Greek Maria Sakkari, fourth with 4,726.
In the Top-10 this week, Ons Jabeur gains a position, who is sixth with 4,380 points, 66 behind the fifth, the Estonian Anett Kontaveit; and the Belarusian Aryna Sabalenka, seventh with 3,966 points. The Top-10 is completed by the Czech Karolina Pliskova (eighth with 3,568 points), the American Danielle Collins (ninth with 3,315) and the Spanish Garbiñe Muguruza, who despite her early elimination in Rome remains in tenth position with 3,031 points.
Two other Spanish tennis players also resist this week in the Top-100: Sarah Sorribes, which falls two positions to 39th with 1,286 points; and Nuria Parrizas, which rises three places to 48th place with 1,160 points.
WTA Ranking as of May 16, 2022
1. Iga Swiatek (POL) 7,061
2. Barbora Krejcikova (RCH) 4,911
3. Paula Badosa (ESP) 4,770
4. Maria Sakkari (GRE) 4,726
5. Anett Kontaveit (EST) 4,446
6. Ons Jabeur (TUN) 4,380
7. Aryna Sabalenka 3,966
8. Karolina Pliskova (RCH) 3,568
9. Danielle Collins (USA) 3,315
10. Garbine Muguruza (ESP) 3,031
——–
39. Sara Sorribes (ESP) 1,286
48. Nuria Parrizas (ESP) 1,160