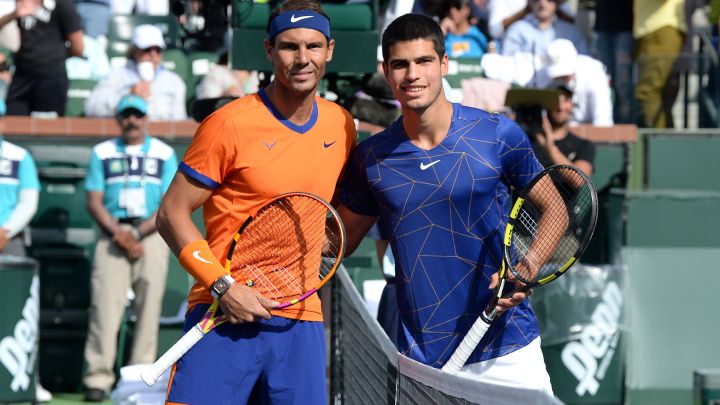 Alex Corretja, one of the great legends of Spanish tennis, analyzed in Eurosport the last great achievement of Carlos Alcaraz: the conquest of the Barcelona Open Banc Sabadell, the Conde de Godó Trophy, which also allowed him to enter the Top-10 of the ATP ranking on the same date and with the same years as one of his idols, Rafa Nadal.
Precisely Corretja spoke about these inevitable comparisons between Alcaraz and Nadal for the milestones achieved, but he advised the Murcian to stay away from them and continue on his path, which could lead him to surpass great legends of Spanish tennis. "We all know that there is the comparison between Nadal and Alcaraz. And I think the most important thing for Carlos is that he stays away from it. He needs to go his own way. It's normal to compare situations, rankings and results because you entered the Top-10 on the same day, after winning the same tournament and because you are Spanish, it is a great coincidence. It is the karma of life, and something big is going to happen. I am sure that he will surpass our careers, those of many Spanish tennis legends, but not yet Rafa's. Rafa is one more step, he is another dimension, something different, so we'll leave him aside for the moment. But I'm one hundred percent sure Alcaraz will be number one in the world, who will win a Grand Slam and who will destroy all our records."
Corretja also wanted to highlight the confidence that Alcaraz shows during his matches and also the voracity that he showed in the Godó, when after the match against Alex De Miñaur in the semifinals he already saw what mistakes he had to correct for the final, which he later won. "When he speaks after the matches, you can see that he has a lot of confidence and believes that he can beat anyone in the world. It doesn't matter the surface or the tournament. That's very important. if you want to be one of the greatest. When he won the semi-final against De Miñaur, he was talking to Juan Carlos Ferrero, his coach, about the match and the details that he had to improve for the final."
For this reason Corretja believes that right now Alcaraz is a very difficult tennis player to beat by any tennis player on the circuit. "When you're able to go out there and play the way he did, it's because you're physically strong and the variations of your game hurt your opponents. Right now I don't see any weaknesses in his game. He moves well, he hits well, he has a great serve that is very good on the ground. He can play dropshots and is working on his backhand and also defends very well. At this moment you ask yourself: How to beat Alcaraz? It's hard".
These achievements made Corretja include him in the list of great favorites for Roland Garros. "Fortunately Rafa will be able to play and will increase his level. Djokovic did an incredible job to play last week and reach the final of the Serbia Open. Of course Rublev and Tsitsipas are coming in very well, so there is no doubt that he could beat Alcaraz in the Top -5 to win the title. He needs a little time and a little patience to see how he plays in the next few weeks. And then I will have no doubt that he will be super difficult to beat because he is flying and I think he can do it."