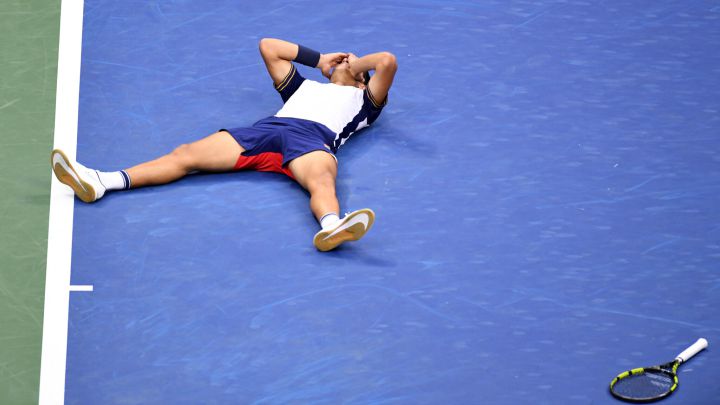 Carlos Alcaraz addressed the media after winning in five sets to the world number three, Stefanos Tsitsipas. He did it for the first time in the main press room, as the seeded men, and he defended himself as best he could, first in English and then in Spanish. This is the content of the interview they did on the best day of his career.
Could you tell us your feelings about today's game?
I have no words to explain how I feel right now. I just don't know what happened on the track. I can't believe he beat Stefanos Tsitsipas in an epic match. For me it is a dream come true.
Were you surprised that the public, the fans, supported you so much? Did you expect that?
It surprises me, really. I didn't think they were cheering me on all the time, supporting me, pushing me up all the time. I was surprised, yes, the truth.
Is there a player you've tried to imitate or look like him?
I honestly do not copy any player style. I just play my tennis. But if I have to say a player who is similar to my game, I think it is Federer. Because I try to be aggressive all the time with the forehand and with the backhand. I think it is a good similarity for me. I have to improve my serve a bit.
How did it feel to hear the audience chanting your name?
It was important. I think without the audience I would not have had the opportunity to play a great fifth set and be able to beat Stefanos. The people were really amazing. I really loved it.
When he threw himself on the court at the end of the game, what was it like, what did he experience and what did Juan Carlos Ferrero say to him?
I thought of my family and my friends, of other people who were supporting me from Murcia. My entire team also supported me at the Academy. I thought of every person who helped in Murcia from the beginning of this story when I was a child.
Before the last point, what was going through your mind?
I think when I missed the last two points on my serve, I didn't give up. I believed in myself. He was serving very, very well. I think it was a great last point. I thought I had to be aggressive to the end. And I did it. Yes, it was really good.
Did you have muscle cramps or pain?
Well, I felt physically at my limit at the end of the third set. Stefanos started the fourth set very, very well. He broke my serve in the second game and I already thought about the fifth. At the beginning of that set I had to play very aggressive, I think the best tennis I have ever played. But it was very hard for me.