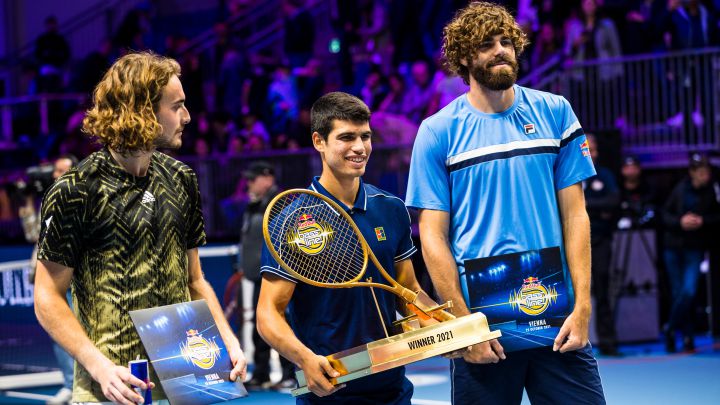 Carlos Alcaraz beat Stefanos Tsitsipas again on Friday night. This time the pass to the eighth of a Grand Slam was not at stake, but it was an exhibition in Vienna, the Red Bull Bassline, an innovative event with quick matches to the best of three tiebreakers, without chair or line judges, which also included the participation of Feliciano López, Reilly Opelka, Cameron Norrie, Cristian Garín, Jurij Radionov and Denis Novak, some of the tennis players participating in the Erste Bank Open (ATP 500), whose first round will start on Monday.
Alcaraz, who beat Tsitsipas a little over a month ago at the US Open, beat the Greek again in the final (7-4 and 7-5), after beating Feliciano in the quarterfinals (7-0 and 12-10 ) and Garín in the semifinals (7-3 and 7-4). "It is an honor to play here. Stefanos is a great player, so I had to play my best from the first ball to the last," said the 18-year-old from Murcia. "Carlos definitely deserves to be the champion and in many other great events to come. I am very happy with how this turned out," said Tsitsipas.
The mini-tournament was broadcast live on Red Bull TV with presenters Bryn Lucas and Barbara Schett, MTB rider Andi Brewi as entertainer and continuous music from a DJ. The players, in a relaxed atmosphere, chatted during the day and warmed up on stationary bikes while they watched their rivals' matches. "It was a great atmosphere, "said Lopez." Thanks to Red Bull for always being open-minded and doing things differently, "said Opelka.
Alcaraz, against Evans
Alcaraz already knows who will be his rival in the first round of the Erste Bank Open, Britain's Daniel Evans. Pablo Carreño will face Georgian Nikoloz Basilashvili. In the previous one, Feliciano fell this Saturday against the Australian Alexei Popyrin (7-5 ​​and 7-6 (8)) and Roberto Carballés could with the Swiss Dominic Striker (6-4, 3-6 and 6-1) and will face the South African Kevin Anderson on Sunday for a spot in the main draw.
Red Bull Bassline Results
Rooms
Reilly Opelka USA beat Cameron Norrie GBR (9-7, 9-7)
Carlos Alcaraz ESP to Feliciano López ESP (7-0, 12-10)
Cristian Garín CHI to Jurij Rodionov AUT (7-3, 8-6)
Stefanos Tsitsipas GRE to Dennis Novak AUT (4-7, 7-5, 7-5)
Semifinals
Carlos Alcaraz ESP Cristian Garín CHI (7-3, 7-4)
Stefanos Tsitsipas GRE to Reilly Opelka USA (7-2, 8-6)
Final
Carlos Alcaraz ESP Stefanos Tsitsipas GRE (7-4, 7-5)