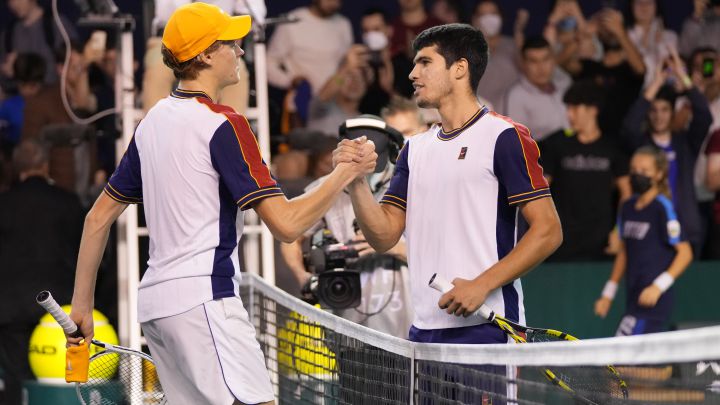 Carlos Alcaraz will be one of the great figures to follow during the NextGen ATP Finals in Milan, which brings together the eight best tennis players aged 21 and under of the season. The Murcian, third in the 'Race', starts as the first favorite after Jannik Sinner and Felix Auger-Aliassime resigned from the tournament.
In an interview with La Gazzetta dello Sport before the tournament, Alcaraz said that he likes to be compared to Rafa Nadal. "Being compared to Nadal is a comparison that makes me happy and proud. I don't want the pressure to overcome me, I just follow my path, which is very long and I have a long way to go."
The Murcian also spoke of the figure of Juan Carlos Ferrero, his coach and one of the key men in his success this season. "Ferrero and I have a wonderful relationship, he teaches me many things both on and off the track. He instills in me commitment and dedication and he is also a good friend to talk to about everything"
Alcaraz was also asked about Jannik Sinner, whom he defeated at the 1,000 Masters in Paris in what, for many, is the duel of the future. "I have a lot of respect for Jannik Sinner, who is a great kid. He is in the Top-10 at 20 years old and I hope to be in his position in a couple of years. I hope it will be the rivalry of the next 10-15 years, it would be nice. meet many times for important titles. That is exactly what he told me in Paris at the end of the game and that is why I smiled at him on the net. It is very delicate to say that Sinner and I are going to be in the next Big Three. I hope to be in a future but ahead are Medvedev, Tsitsipas, Zverev … "
The Spanish tennis player confessed that, despite not being able to lead a life like any teenager, he continues to maintain the relationship with his friends. "I miss life as a teenager. I miss many of the experiences that my friends have but it is the life I have chosen and I like it despite the sacrifices. I miss my friends but when I can be with them we play Play together and, above all, to Fifa ".
Finally Alcaraz spoke of his expectations for the NextGen ATP Finals, where he arrives with the intention of lifting the title. "I really like the tournament, the surface and training with Lorenzo Musetti was very interesting. Playing in Italy it is normal that they encourage him. But I hope to do like Sinner two years ago and win the tournament. That is my goal."