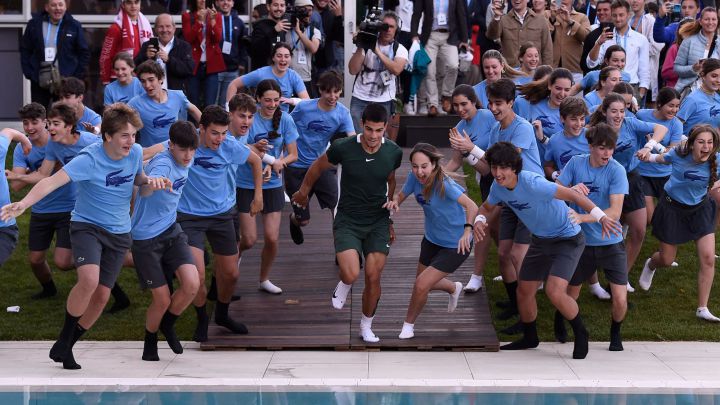 A rocket travels at supersonic speed through the ATP ranking. Served by Carlos Alcaraz. With 18 years, 11 months and 20 days, in just one year he has gone from 119th place in the world ranking to ninth, an ascent of 110 steps. The Murcian has been in the Top 10 since Monday. An exclusive club, a border that is difficult for any tennis player to cross, but one that he has managed to leave behind with only 77 games on the circuit (56 wins, 72.7% effectiveness). A route that includes the titles of Sopot (ATP 250 category), Río and Godó (both 500), Miami (Masters 1,000) and the NextGen Finals.
Alcaraz, who defines himself as a "town boy", curiously enters the Top ten in the same date (April 25) that Rafa Nadal did, also after winning the Barcelona Open Banc Sabadell in 2005. The Balearic Islands achieved it with 18 years, 10 months and 22 days. The one from El Palmar is ninth in earliness in this section. A carom of fate that does not seem like a coincidence when the two are forced to be compared. "The date coincidence with Rafa is impressive. I am happy to be in the top-10 at the age of 18 and to do it on the same date as my idol; It's special", reflected the Murcian in Barcelona.
You would have to go back 15 years to find two players under the age of 20 breaking into the top ten: Novak Djokovic (March 2007) and Andy Murray (April of the same year). Other illustrious names that the Spanish also surpasses in precocity.

Alcaraz, if he continues like this, can climb more positions this year if he signs good performances in the Grand Slams, which is where most of the points are distributed (2,000 to the champion). At Roland Garros he defends 115, at Wimbledon 45 and at the US Open, where he reached the quarterfinals in 2021 with victory over Stefanos Tsitsipas included, 360. It is 1,943 points away from the Top 5 that the Greek marks precisely.
Number one is still a dream. But there is a long road ahead. "I have Juan Carlos (Ferrero) who can tell me how difficult and sacrificed it is to get there. I think I'm on the right track. If I don't get sidetracked and I continue to do things well, I'll have opportunities," admits Alcaraz.
YOUNGEST TOP TEN TENNIS PLAYERS
| | | |
| --- | --- | --- |
| Aaron Krickstein (USA) | August 13, 1984 | 17 years, 11 days |
| Michael Chang (USA) | June 12, 1989 | 17 years, 3 months |
| Boris Becker (GER) | July 8, 1985 | 17 years, 7 months |
| Mats Wilander (SUE) | July 12, 1982 | 17 years, 10 months |
| Bjorn Borg (SUE) | June 3, 1974 | 17 years, 11 months |
| André Agassi (USA) | June 6, 1988 | 18 years, 1 months |
| Andrey Medvedev (UCR) | June 7, 1993 | 18 years, 9 months |
| Rafael Nadal (ESP) | April 25, 2005 | 18 years, 10 months |
| Carlos Alcaraz (ESP) | April 25, 2022 | 18 years, 11 months |
From the list of nine tennis players youngest to break into the Top ten, five reached the top of the ranking (Nadal, Andre Agassi, Bjorn Borg, Mats Wilander and Boris Becker). Legends that mark the way.
As for the Race, the classification that grants the eight places for the ATP Finals at the end of the season, the Spaniard is third with 2,460 points. Only behind Rafa Nadal (3,350) and Tsitsipas (2,530).
EXHIBITION
With Already star treatment, Alcaraz flew to Greece on Monday to play an exhibition organized by IMG (his representation agency) against the Pole Hubert Hurkacz in the framework of a U-12 tournament in which his brother Jaime participatesand on Thursday he plans to arrive at Mutua Madrid Openwhere he and especially his team will have to manage expectations and where he will start playing next week. The reappearance of Rafa Nadal is expected in the tournament (who in 2021 beat him 6-1 and 6-2 on the day he turned 18) and will also be Novak Djokovic, defeated on Sunday by Andrey Rublev in the Belgrade final. Another challenge that no longer seems so huge.