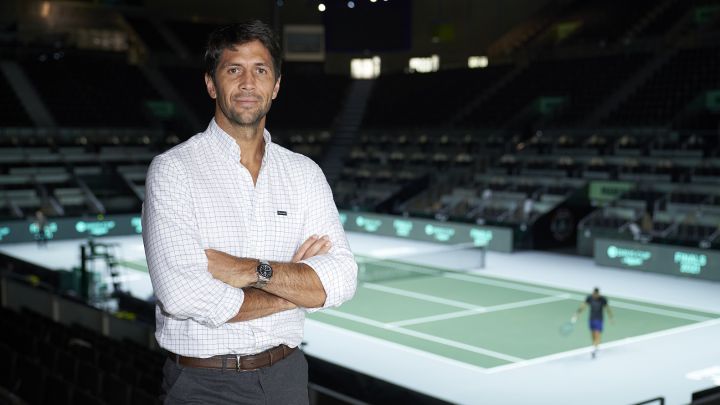 As a player he is an important part of Spain's recent Davis Cup history. Three titles, including the 2008 one in the Mar del Plata encerrona, and 18 victories, several in finals, adorn Fernando Verdasco's curriculum in this competition. Now, at 38, the Madrilenian proves executive experience after being appointed in September Finals director, that start on Thursday spread over Madrid, Innsbruck (Austria) and Turin (Italy). From the Madrid Arena, the new headquarters to replace the Caja Mágica, it serves AS.
How was the landing in a position like this, close but off the runways?
It was something last minute, because Albert (Coast) could not be this year. He caught me a bit by surprise in his day, I did not expect it. But I took it as an experience that could be very beautiful. And the fact that it is in Madrid, my city, gives it extra motivation.
To what extent does your experience as a player help?
I haven't been able to do much yet either. I have been playing tournaments until a week ago. I have just started with the events, to talk with the Kosmos team to see what we can improve, how it can be as good as possible … And as a player I think I have enough experience and I can know what they like and what they don't like. players.
It is also a competition with which he has an important link. He has won it three times and scoring points in finals
Of the important tournaments, Davis is the one that has given me the most. Being able to be part of it as a director is something very nice and I liked the idea of ​​doing it, experiencing what it is like to be close to the slopes but without playing, as you say. I would like to be on the court but given my year, with two operations, one knee and one elbow, I couldn't expect to be a player either. It was the perfect occasion to test this position. Hopefully next year there will be no more injuries, I can have a full year of tennis and we'll see if I have the option to play.
Everybody says the Davis is special. What makes it special for Fernando Verdasco?
Playing for your country. You feel a different pressure than any tournament. 99% of the times we play we do so as individual athletes, unless you are in doubles, and for our own benefit, although you always have a country behind you. When you're in the Godó final, I remember, for example, one of mine against Söderling (the one from 2010), a Swede, you are playing for yourself, but you also know that all the people support you and represent your country. Well, it's still not the same as Davis. There you wear the flag of Spain on your shirt and compete for it.
I imagine his teeth are going to grow long when Spain plays at the Madrid Arena
I think not this year, to be honest. I have it very accepted by the injuries. He knew there was no chance. Even being with the team in Austin, Texas (USA), once we played against the United States, I remember that I was number two but I was not training well. And I took Albert Costa and said 'Albert, Feli is better (Feliciano lopez) that I, I think he has to play against Mardy Fish and not me. I had a bad year with injuries, I have not been able to be in shape, train hard or play well. Everyone in the team is better than me and deserves more to play. I can only support them in everything so that they win, although as a manager of the tournament I have to be something more impartial (laugh).
They open headquarters, the Madrid Arena. Does it improve the Caja Mágica?
I did not experience in person what the Davis of 2019 was in the Magic Box, although I have already played there. I heard that it was all very cold and I think the Madrid Arena will adapt better to the characteristics of this tournament, especially with the change in format to three venues.
Spain goes without Nadal, but with Alcaraz. How do you see the team?
The team has weapons to do something. They can opt for the salad bowl even without Rafa, who in 2019 did not lose a match. Having him on the team is as if they gave you ten oxygen cylinders, but even if he is not there, you can make a very good Davis Cup.
What is your opinion of Alcaraz in particular?
Carlitos is playing incredible since the Mutua Madrid Open. You could see that he had a very high level coming, but from then on we all said 'joe, he's a great player'. It is at a very good level and I think that Sergi (Bruguera, the captain) will count on him a lot. But I also think that in the end he is 18 years old, a very high potential and it is not positive that people, the press, everyone in general, compare him with Nadal. I've heard it a lot and in the end Rafa is Rafa. Each has a different career. I think that Juan Carlos Ferrero knows this very well and Carlos is very lucky to have someone like him. Thanks to that, you will be able to achieve many more things than with someone with less experience.
Who are your favorites?
There are great teams like Russia, Serbia or Italy, although they have run out of Berrettini. Others have also had significant casualties, such as Canada with Felix (Auger-Aliassime) and Shapo (Denis Shapovalov). It is not for making less of other players, but it is not the same. Even so, we must not give them up for dead, since in tennis and sports in general we have already seen many surprises. To us in Mar del Plata (the famous final won by Spain against Argentina at home in 2008) they gave us for dead and look. In any case for me the favorites today are Serbia, Spain, Russia and Italy.
Which is better, directing the Davis or playing it?
As a player I will always tell you to play it. But in the end the playing career is a few years. I would be playing it until my 60s, but this is not like golf or other sports. Tennis demands a lot of you physically. I remember that my father always told me 'Fernando, focus and do your best as the tennis player's career is normally 10, 12 years, until around 30'. Now I am 38, I have lengthened it a lot, but you know that the time will come when you cannot continue, and being able to be the director of a competition like this is something that any former player, or active player who cannot play it like me , would love it.