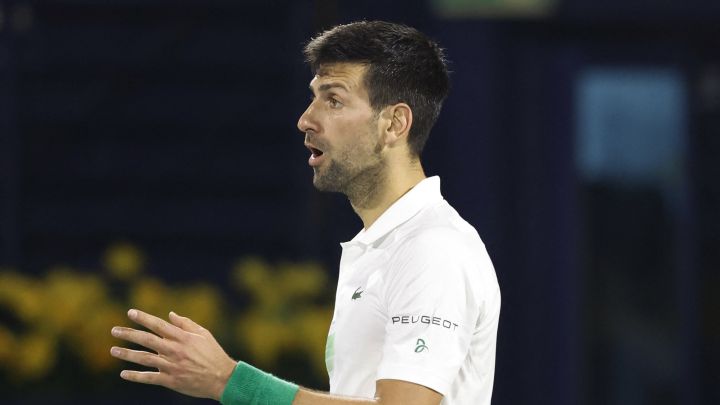 Time of changes for Novak Djokovic. And very important. After 79 consecutive weeks at the top of world tennis, the Serbian player is no longer number one in the ATP ranking; after almost 16 years working together, Marian Vajda is no longer part of their technical team. This has been confirmed by Sasa Ozmo, a journalist from the Balkan media Sportklub, despite the fact that it could already be intuited. The award-winning coach, present at all Nole Grand Slams, has not accompanied Djokovic on any of his trips, frustrated or not, so far this season. He was not in Dubai, where he lost his throne after his fall against Jiri Vesely, and will not be in any more tournaments, according to Ozmo's information.
A point and apart in Novak's career, but with the ground prepared. In recent years, Vajda had reduced the number of competitions he attended. Especially since 2019, when Goran Ivanisevic, the 2001 Wimbledon champion, joined the task force. A gradual entry into the team to end up adopting a main role, the one that Vajda had. The rest of the squad that accompanies the Serbian tennis player, well, remains the same, with no announcements of new additions: together with Ivanisevic, the physiotherapists Ulises Badio and Miljan Amanovic and the physical trainer Marco Panichi.
Marian (57 years old), that you intend to focus on your family and personal life, according to Sportklub, began working with Djokovic in 2006, with his sights set on Roland Garros. The union bore fruit immediately: quarterfinals in the major Frenchman, leaving against Rafa Nadal due to injury, first titles of his career (Amersfoort and Metz) and, for the first time, Top 20 in the ranking. Only two years later, the first of their twenty Grand Slams would come together, in Australia, the Masters Cup and bronze at the Beijing Olympics. Between 2018 and 2019, yes, coach and tennis player have already distanced themselves for about a year, sharing the position Andre Agassi and Radek Stepanek.
Successes and peculiarities in a professional relationship with a curious beginning. The first time the Slovakian coach saw Djokovic play, he was not impressed, as he has revealed in various interviews. "He was competing well. He was a great athlete. I saw that his physique was incredible and solid, but I saw technical gaps," he explained. Since then, the former tennis player, who participated in the Barcelona Olympics and became 34th in the world, has not stopped polishing the Serbian until he became one of the three great names in history. Now, in the midst of his controversy over vaccines, from which Vadja has always defended him, Nole must follow a different path from that of his great guide. One that is very uncertain. Despite his competitive hunger ("I need games, I hope to play again soon"), Djokovic doesn't know when he will be able to play again.