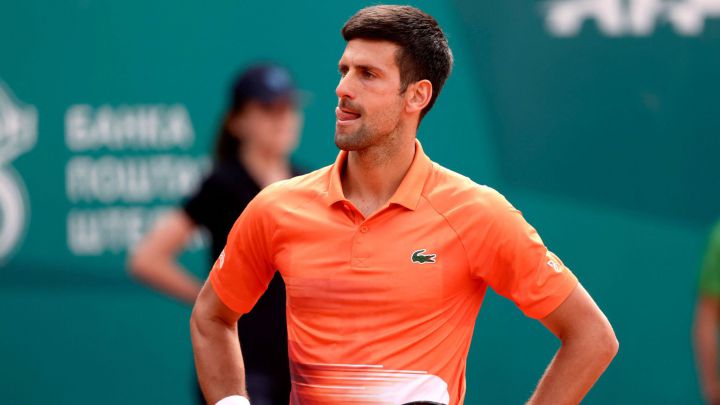 Novak Djokovic's press conference after losing in the final of the Belgrade tournament left us with numerous headlines. The most striking of them all was Djokovic's announcement that he had had "an illness" in recent weeks that would have affected his performance both in the Masters 1,000 in Monte Carlo and in his title match against Rublev, where he reached the third set.
Djokovic himself confessed that he had never felt like yesterday in the third set and apologized to the fans for the show offered. "This had never happened to me before, perhaps at the beginning of my career. Montecarlo and today (yesterday) may have something to do with the illness I had, recovery is taking longer than I expected. I wasn't so tired until the end of the second set but at 5-4 in the second set it all started. I won the tie-break, I called a medical timeout, I wanted to fight in the third set but I only lasted two games, the rest was not nice to see. I'm sorry that people saw something like that, but I didn't want to give up the game."
However, Djokovic wanted to be more restrained when talking about the disease that has passed, although he stated that it had nothing to do with the coronavirus, against which he has not yet been vaccinated. "The disease has nothing to do with the coronavirus. I do not want to give details, it is not necessary. It severely affected my body and my metabolism for several weeks. I did not have enough time to prepare for the Monte Carlo tournament but I really wanted to play there But I have to look at the positive side, I keep improving and I have played three-set matches with positive things. It's worrying to see those feelings because I haven't played for a long time. I don't see any other reason for what happened, because I'm still preparing for tournaments. I don't have a problem with my body, it's over and it affected me. I will improve from week to week."
The press conference also served for Djokovic to confirm a new loss from his team, that of his physiotherapist Milan Amanovic, in addition to the departure of Gebhard Gritsch, Nikola Pilic and the legendary Marian Vajda, to whom Djokovic paid tribute after the end. "I broke the collaboration with Gebhard Gritsch a year ago. Marian traveled a lot as a player and as a coach and he was tired. With Milan Amanovic we reached an agreement to end the contract and we did not make it official until after the tournament. Milan has three children, we are thinking big things for this tennis center (the one that Djokovic has in Belgrade and that hosted the tournament), we want to set up an academy and he is the ideal person to make this project great and he must be dedicated to it. He is a trustworthy man and he makes me glad that he has accepted this challenge. At the moment no one else will join my team, so Ulises Badio, Marko Paniki and Goran Ivanisevic will continue." A team that will continue alongside a Novak Djokovic who wants to turn the page on his strange and undefined illness that has further complicated his 2022 season.