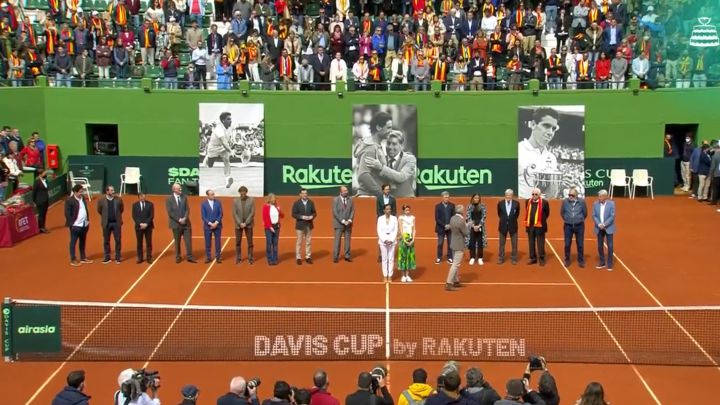 A large constellation of tennis stars attended the Puente Romano Club this Saturday to pay tribute to one of their own, the legendary Manolo Santana, winner of four Grand Slams, who died in Marbella last December. Bjorn Borg, Nicola Pietrangeli, Jan Kodes, Albert Costa, Ion Tiriac, Pato Clavet, Álex Corretja, Pato Clavet, Pepe López Maeso and Anabel Medina among others, were accompanied by Sergi Bruguera, two-time Roland Garros winner, and Juan Carlos Ferrero , champion also in Paris and former number one in the world, who are part of the Spanish Davis Cup team that competes against Romania this weekend in the town of Malaga for a place in the 2022 Finals. "I thought of Manolo and felt joy. And although he is very sad speaking on behalf of Spanish tennis, I would like us to remember him as we all knew him, friendly, joking, close, affectionate, respectful, someone special who marked an era in our career, because thanks to him, many of us are here. He always professed us, delivered us and gave us a lot of love. I thank him for everything he gave us," Corretja said on the track that bears the honoree's name.
The president of the Spanish Federation, Miguel Díaz, was the host of the leaders and personalities who attended the event, along with Ian Hewitt, the president of the All England Lawn and Tennis Club, where Wimbledon is held, the tournament that marked Santana's career when he won it in 1966, Gerard Tsobanian, CEO of the Mutua Madrid Open, and Emilio Butragueño, director of institutional relations for Real Madrid. Also present were the mayor of Marbella, María Ángeles Muñoz, the CEO of Puente Romano Beach Resort, Shaun Leleu, and the president of the Andalusian Government, Juan Manuel Moreno. "We love him and we miss him," the politician commented. "I am very proud to pay a public tribute to a person whom we all appreciate, value and admire, such as Manolo Santana, who felt Andalusian despite being from Madrid and who lived in Marbella for four decades"he added.
Claudia Rodríguez, Santana's widow, who could not hold back her tears, as did one of her daughters, Bárbara. "Manolo was the pioneer, he meant a lot to Spanish tennis, he made our sport known internationally at a time when it was not easy. We owe him a large part of the successes achieved later"Diaz said.
The Big Three, present
The three members of the Big Three, Rafa Nadal, Roger Federer and Novak Djokovic, did not attend in person, but sent messages in an emotional video and already to remember the figure of Santana, whose ashes were scattered in the Mediterranean at the beginning of February, fulfilling the request that the Madrid pioneer left in writing. "I'm sorry I can't be with you on a day like today. Manolo was someone who has done unique things, a pioneer in the history of our sport. He has marked the way for all of us who have come after him. Hopefully the tribute is worthy of the person he was. A hug," Nadal said. "Manolo loved tennis and was always a true gentleman. One of the greatest and nicest legends we've ever had. I loved seeing him all over the world and in Madrid, of course, where he made me feel very special when he picked me up at the airport with my family," Federer recalled.. "He was a great champion and continues to be an icon and a legend of the sport. He was always very friendly with me and my family. We had a great relationship. Thank you very much for your legacy, Manolo," added Djokovic. "He inspired generations of tennis players, in Spain and around the world with his top-spin, his fighting spirit and his passion. We had great battles on land", contributed the great Rod Laver. The culmination was put by the tenor Rodrigo Orrego before the photo of the legends with the family. This Davis goes for Manolo.