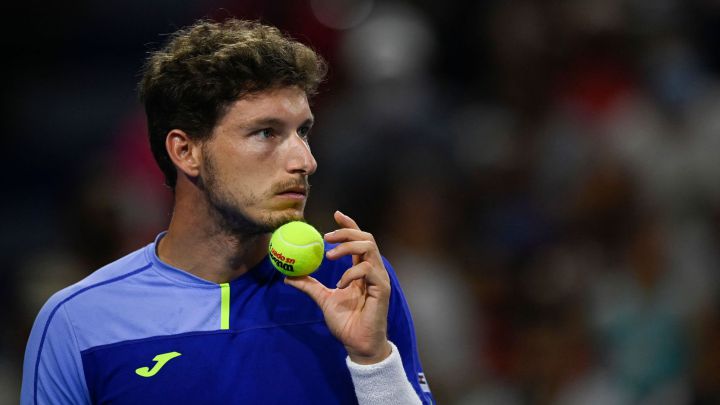 There is no small rival. That is the mantra that the Spanish team of Davis cup, that next March 4 and 5 will face in Marbella their qualifying tie for the final phase of the competition. On the other side of the track will be a 'Cinderella' like Romania, but not for that Sergi Bruguera, the captain of Spain, transmits the slightest excess of confidence.
"Copil is a great player, he has one of the most powerful serves on the circuit, a huge forehand. He is a player who plays very well in the Davis Cup. We already know that there are people of this type here who have the ability to play their best game . Sometimes you don't need to have a lot of ranking to complicate things." the Catalan coach explained about the Romanian team's number one, a Marius Copil that can cause problems despite being very far from the top-20 (260º) that occupy a good part of the Spanish tennis players who will be in Marbella.
It will be precisely them Robert Baptist (15th), Pablo Carreno (16th), Carlos Alcaraz (19th), Alexander Davidovich (47th) and Pedro Martinez (50th), who will be responsible for making good predictions on the field. A group, before absence of Rafa Nadal, of the most compensated with the mixture of a debutant, like Alcaraz, a versatile player to supply the loss of Granollers in the doubles, case of Martínez, and the leadership of two veterans, such as Bautista (Spanish number one in the tie) and Carreño.
The Asturian, in declarations for the RFET, He did not hesitate to flex his muscle due to the good moment that Spanish tennis is going through: "The beginning of the year is being unbeatable for Spain with Rafa (Nadal), obviously, in the lead, leading everything with that Australian Open and the two more tournaments he has won . We have a very, very strong team. What has to be highlighted is the high level that all the components have. Many times in a team there is a very good number one, or two very good players, but the Spanish team has a lot of wardrobe". With the seven men's trophies that Spain has won at this point in the year (3 from Nadal; 1 from Ramos ; 1 from Alcaraz; 1 from Bautista; 1 from Martínez), it is clear that Carreño is right…