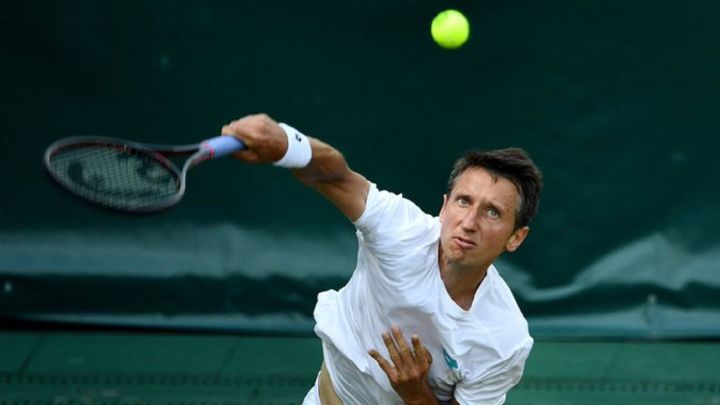 Sergiy Stakhovsky, an icon of Ukrainian tennis, has stated in an interview with SkyNews who has enlisted his country's military reserves to fight against Russia
Asked if he would be willing to take up arms and fight Russia, an emotional Stakhovsky told Sky News: "Of course I do, that's the only reason I'm coming back. The army has opened the reserves and all those who are willing to fight, so that they can come and pick up their weapons and become part of the territorial resistance."
'There are a lot of people in them. In fact, I signed up for reservations last week, last Saturday, only I didn't have enough documents to sign the contract. Now they've scrapped that procedure and basically anyone who's motivated enough can enlist.", he confessed.
Stakhovsky, who reached 31st place in the world ranking as a player and eliminated Roger Federer from Wimbledon in 2013has no prior military experience, but feels compelled to help defend his country.
"I have no military experience, but I do have private firearms experience. I see no reason why most of our compatriots have to risk their lives to send their families while I sit by.".
Stakhovsky also praised Ukrainian President Volodymyr Zelensky, who has remained in Kiev and continues to defy Russia. "And as far as I can go, I can say that, today, the president that we have is probably the only president that we've ever had in terms of standing up for his country and believing in what he's doing and risking his own life. The only one. All the previous ones were just political jokes. He may be a comedian in life, but he has become a president for the people", said.
He also pointed to the lack of support Ukraine has received since Russia annexed Crimea in 2014. "Let's face it, it's been eight years of war against Russia, it doesn't matter if it's Russian proxies or Russia itself. Where was all this for eight years? None of us would believe this could happen and yet it did. And none of the European leaders, nor the world leaders, are ready to help, ready to fight in Ukraine to perhaps have a better Europe in the future"he clarified.