At the entrance of the National Tennis Center, attached to Melbourne Park, Carlos Moyà (Palma de Mallorca, 45 years old) sits down with AS to talk about Rafa Nadal and the process that has made his umpteenth comeback a reality. His coach does not hide that there were bad moments, but now he sees him ready to have a great season. This Friday (4:30, Eurosport) he faces Matteo Berrettini in the semifinals of the Australian Open.
To what extent was Nadal's situation critical when he had to stop in August?
He had that problem since after the Australian Open last year. Actually, he has always had problems with his foot, but until now they only affected him in training and at specific times. But there came a point where we saw that he had them more frequently and that they weren't just training, but in games. In Paris he passed him and then he didn't go to Wimbledon. He reappeared in Washington and it was anyone's guess how he would be. It was the same as now, we went to see what was happening, but there it went wrong and here it went well.
So extreme?
The circumstances have been similar. You always think that in competition it will be better and it couldn't be there because the pain in the foot was unbearable. He went to Toronto and didn't even compete anymore. In Spain is when it was decided to stop. The issue with this injury is that there is no definitive treatment. If you could operate, spend six months out and look good… but it's not like that. Then we went on the fly, with various treatments. Sometimes it got better and other days it went backwards, it got worse again. Until at the end of November, we said, look, let's go full throttle and if you don't pass the test in Abu Dhabi, then we're not going to Australia.
Did they ever think that he would not be able to play again?
We had several conversations during the preseason, because we saw that it was not progressing. Until he told him: 'Let's go to the top and if I break, I break'. We couldn't consider going to a Grand Slam with five-set matches without testing beforehand. The one in Abu Dhabi went very well, especially because of the foot, even though he lost the games. After that came the COVID, and we asked ourselves again if we could go with the minimum conditions required to be competitive.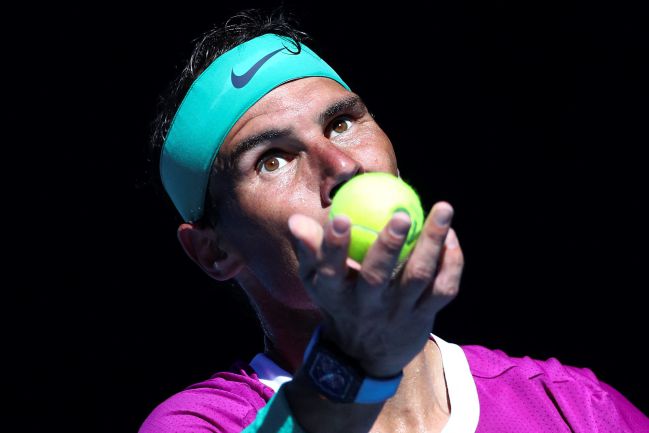 Has the team been surprised by Rafa's response in Melbourne?
It is the power of the competition, the head transforms when you feel like a player again. He in these last months there were moments that he did not feel like a player. The head works according to what you feel. What happened in Abu Dhabi was a step forward and we trusted that here his head would also help him by seeing himself competitive again, training with level players, being on the circuit, traveling… That happens, I know it from my own experience, I lived it. All of that makes you transform and then you don't have to be physically limited. From the beginning we saw that he was fine on the track despite having had very little training due to the COVID issue. But the first tournament that he played, those matches, were good for him to enter the competition.
In what way have training sessions and the game been adapted to prevent Nadal's foot from suffering?
We have been doing this for years and more and more is going to have to be done, because the courts are faster, the players hit the ball harder and he is getting older and is having more wear and tear. To be competitive you have to do new things. The serve this week is one of the things that is going well and what we insist on. For the game we want, we have to be fine and play well, with more risks to dominate the ball more and be more aggressive. All this requires you to be more convinced and able to do it, although there will be days when you don't feel so good and you can't execute that plan. Khachanov's day was very good, he was at a great level. Against Giron as well, but perhaps the rival was not so demanding, although he played. With Shapovalov it was difficult to have some control because he is super aggressive and left-footed, although somewhat irregular.
How can you play with a broken bone, as Nadal says?
It has been like this for many years, the bone is degenerating little by little. If you look at the shape of the foot, you see it. It has a very strange thing there. It is not that it is a broken bone as such, I am not a doctor, but we have seen the reports and it is another type of break. However, what he says is so, although it sounds strange, and it is something that is getting worse.
And now what options do you see to do something big in Australia?
Once you're in the semifinals, his percentage of effectiveness is high. There are three other players and two games left, the toughest in the championship. If the question had been asked the first week, the first day, I would have said, 'let's talk later'. But now we are in a good position and from here anything can happen. Rafa is Rafa and with him you always have the hope that positive things can happen.
What worries you about Matteo Berrettini?
He has a very good serve, a very good forehand and for how tall he is he moves quite well. He understands tennis well, he has a good hand, when he has to volley, he volleys. The game changes. He is very aggressive but with a head. Rafa played against him in 2019, when he was the surprise, less of a player than now. He has been improving and is having more regularity. Now it is no longer new to find him in these rounds that correspond to him by hierarchy and by tennis. But Rafa also has his weapons and we are going to try to use them. You can have a plan, a strategy, but if you're not fine, then you have to adapt and change a little. I think Rafa does that perfectly, he is the player who best reads where the game is going, when he has to push, when he can get carried away and that is an advantage that I see that many other players do not have.
Was Rafa upset by Djokovic's conflict?
We were already here when all this happened and Rafa continued on his way. Obviously, we were informed, because it was impossible not to be up to date on the mess that was mounted, on everything that was happening. But we try to abstract from that and continue with our plan.
And what do you think about that case?
There were many failures on many sides. There are very clear rules. I don't understand how they let him come for what happened to happen. I don't know if it was from the government, the organization, I don't know who it was, there was a lack of coordination. The rule is clear, if you are not vaccinated, you do not enter. In fact, of the top-100 there are 98 vaccinated and two who are not. one did not come (Tenny's Sandgren) and the other is Djokovic. We are talking about a country (Australia), which is one of those that has improved on the issue of COVID. They have had just over 2,000 deaths throughout the pandemic, the equivalent of three days in Spain at the worst time. Lessons cannot be given to this country of COVID, especially after the confinement of more than 270 days that Melbourne suffered. Experts, epidemiologists, doctors have to speak. In the end we have some information, but we must try to respect the laws of each country. The law of this is that if you are not vaccinated, you cannot enter. The mess was mounted by all parties.
To what extent has the COVID protocol been detrimental to tournaments?
Let's see, it's not easy, but we are facing a global pandemic and millions of people have died, millions of others have lost their jobs, their businesses. We are lucky to be able to continue doing our work with fewer restrictions now. They are not ideal conditions, but you have to adapt and be grateful that in a certain way you can carry out your work with a certain normality. It is not easy, but we understand that there are many more people who have experienced it in a much worse way.
Is the rest of the season outlined?
It will depend on the results and if Rafa is still competitive and winning games. So he will have the option to choose well. If he leaves the top-10, then he will still play in more places. We have everything more or less defined and we cannot reduce more, because it is impossible, but it is clear that he is not going to play 20 tournaments a year.
What do you think of Shapovalov's complaints about alleged favor treatment of the best players?
It was a bit of frustration in a game that had quite a lot going for it and it escaped him. They are hot statements, just after losing, from a young boy who still lacks experience. Surely in him in the heat of battle he said things he didn't mean. If the judges were corrupt, as he said, he would have been expelled from that moment. If there was that favored treatment, he would not have continued playing. Rafa was quite benevolent in this aspect with the boy saying that he had made a mistake and that he did not take it into account. Also to say that Rafa faked the doctor thing, when he told us that he was dead and lost four kilos… We knew that something was wrong with Rafa, that it was not on the track. Having said that, I understand that it is a hard game to accept and we do not give it importance because he is a boy that we like.
How was recovery day?
Something specific happened to him, which happens once every so often. She has a bad day of heat and humidity and that's it. If you have to pass it, the sooner the better, because if you overcome it you will come out stronger. And in that aspect, mentally, he came out very strong. The conditions this time will be different (they announce rain) and has had two days to recover. That won't be a problem.