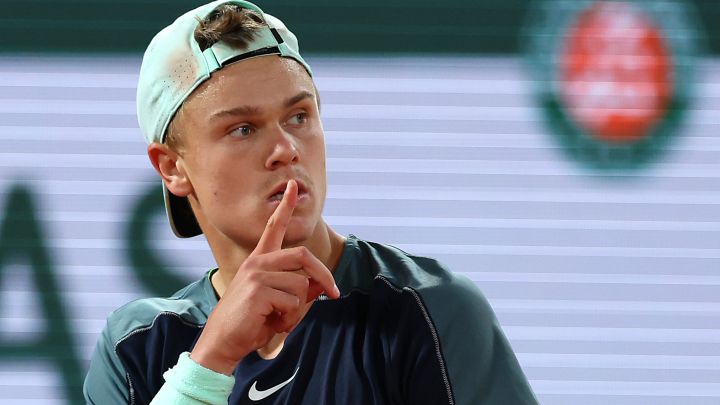 What was a historic match for Scandinavian tennis, with a Dane and a Norwegian facing each other in the quarterfinals of Roland Garros, it ended in an ugly way, with bad gestures between Casper Ruud and Holger Rune and a crossing of accusations. Following Ruud's four-set victory to reach the tournament semi-finals, it was surprising how coldly Rune greeted him at the net. He barely shook hands with the Norwegian and immediately looked away, which left Ruud himself unsettled. At the end of the match, both players gave their version of what happened.
Throughout the match a very nervous Holger Rune could be seen. At 19 years old, the Dane was facing the great opportunity of his career, but his game did not accompany, and neither his attitude. At one point in the meeting, Rune could be seen heading to his box, where his family was, and shouted "leave, leave" ("go, go"). These cries were directed at his mother, Aneke, who left her seat. However, the main problem was Ruud and Rune.
There were several occasions in which the Dane protested the decisions of the judges, which Ruud did not like. "I told him if I needed to check each brand, and he told me to shut up. I asked him if that was what he had to tell me when I was talking to him, and he told me to shut up again.", explained the Norwegian after the game. "That's all that happened, I didn't exchange any more words with him. If he wants to behave like that, that's up to him," Ruud said. Giving her version of events, Rune said that Ruud was "very unsportsmanlike during the match talking to me over and over again." This explained his coldness in the final greeting. "I didn't want to give him a hug at the end of the game. I gave him a high five and then I had to get away from him." commented the Dane, who also responded to an Instagram comment saying that "I'm sorry, but I only hug friends." To all this the Norwegian quickly replied. "I don't know Holger personally, but I've seen him on TV and sometimes there's a lot of drama. He's young, so he can be excused, but when you're on a big stage, it might be time to grow up a bit."sentenced Ruud.
Far from stopping the matter there, Rune raised the level of controversy even more by accusing the Norwegian of having a bad gesture with him. According to the Danish tennis player, after the game he had an unfortunate encounter with Ruud in the locker room. "He came right up to me and yelled 'yeah!' on my face. You can cheer on the court and be happy, I do it when I win. But that's a bad style of doing it, I should have some respect.", revealed Rune. The journalist José Morgado, shortly after, published that Ruud's father denied this fact, saying that "it is a lie". However, Rune's mother commented that "his father wasn't there because he was there while Holger was waiting for doping control, so he can't say anything." Ruud has not yet been mentioned about these occasions, and the tension between two young promises of world tennis went through the air yesterday in Paris.