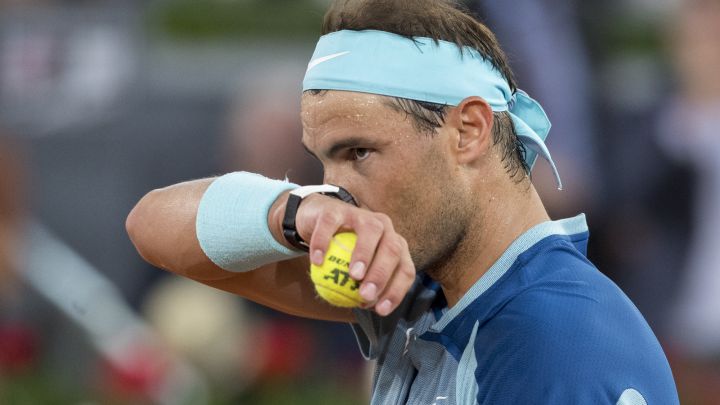 In a certain hurry, because time was rushing and the initial whistle at the Santiago Bernabéu was drawing near, Rafa Nadal appeared in the press room of the Caja Mágica. Despite this, understanding that it is "his job" despite the rush, the man from Manacor answered the journalists' questions, which he answered with a large handful of explanations. Rafa affirmed leaving "very happy" for the level shown in his debut at this Mutua Madrid Open, where he beat Kecmanovic. These are the declarations of the Balearic.
Vision of the ball: "Fail, we all fail. The visual effect changes a bit from covered to open court, it takes getting used to. The lighting is good, I see it perfect. When you come back with everything closed, the eye has to adapt a bit."
Level in the first set: "I'm leaving very happy, you have to be honest with yourself and with you. The reality is that my preparation has been almost zero, you can't expect great things at the beginning. Before arriving here, I had trained very little. The training sessions have been a bit of a roller coaster, with worse days and better days. I think I had a good match in general. The first set was good and I don't consider the second set bad, it's normal that there are better and worse moments. These are things that give you the competition. Physically, I'm a bit more tired than usual. The rib injury hasn't allowed me to do much, so I'm a little bit against the clock. But I'm not worried, I take it as every minute I spend on the track It's something positive. Today I played an hour and 55 minutes against an opponent who had just done very well. It's a very valuable victory and time on the court that helps me to get back in shape as soon as possible".
Return after a month and a half: "When you come back from a while without playing, it's hard, me too. I think I have a good ability to be humble enough to accept that things are not going to be perfect, and from there, build from daily work and knowing There are going to be mistakes. You have to move forward with enthusiasm and determination. It's hard for me like everyone else, it's true that for some reason, during my career I've come back from difficult times with good results. When you come back from a period without winning, It changes you a lot to win the first games, you pick up the pace quickly and, if not, you enter a spiral of mistrust. That's why today's victory is very important".
Sensation in the affected area: "In the second set there have been moments of errors. With injury, I have no problem. I had discomfort at the beginning of the week, I had a CAT scan here in Madrid and the image was good. A priori, I'm out of danger. other things that have to be recovered, the rib is a stress crack, at the level of important injury there are others like the foot, the knee. This is a matter of time, you know that it is a certain period. Mentally, they are easier to assimilate , although mine has been difficult because the moment was very bad".
Play in Madrid: "It is very special to play in Spain, in Madrid the support and affection has always been unconditional. I am aware that I am my age, I don't know how many more times I will have the opportunity to play here and I try to enjoy it to the fullest. Incredible moments on this track, I have as many times as I have left to play here, it's something impressive. I can only say thank you, what you feel playing here is difficult to find elsewhere".