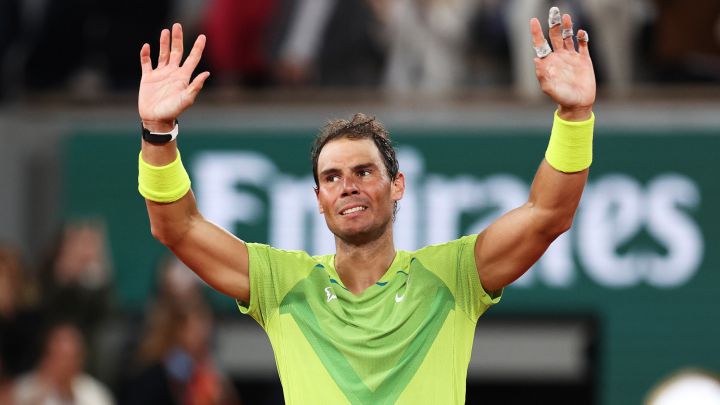 Rafa Nadal faces his semifinal match at Roland Garros this Friday against Alexander Zverev with optimism after getting another epic victory against Novak Djokovic in the controversial quarterfinal night session. An optimism that Nadal himself has expressed in statements to TVE by leaving the door open to return to Roland Garros despite the doubts that have appeared in recent days.
Nadal acknowledged how special the match against Djokovic was and wanted to thank the atmosphere and the support of the public. "In the end, when we face each other, both with Federer and with Djokovic, and on stages like the center court at Roland Garros, they are always exciting matches, different because of everything it means and because of all the history we have lived together. and in the end a special atmosphere is generated in this type of match and it is not a final, but in the end it is always different to play between us. It was an exciting match, against Novak and the crowd was impressive with me."
The Spanish tennis player also thanked the people in the tournament for the affection he has received and believes that it is not only because of his effort on the court. "I do what I can. When you receive the support of the people, the satisfaction is great, because it not only means that you have done things well hitting the ball, but some other things as well. In the end it is a satisfaction that one takes. They are beautiful moments and more so when you have a career that is not forever."
Asked about his intriguing statements about the possibility of it being his last match at Roland Garros, Nadal leaves the door open to return next year but everything will depend on how he is from his chronic foot injury, although he is eager to continue competing. "I do not have melancholy. I have always had things clear, accept things as they come. In no case do I intend to make it seem like a farewell. What happens is that today there is a reality that is what it is and because of what may happen, we will continue working to find solutions to what is happening down here. I trust I can return. There is still a year to go, but it is clear that these months, not these last three months but since last year, have been difficult. The day to day, with all that it entails, becomes difficult not because of the effort that it entails for me, but because of maintaining competitiveness, which in the end I play to be competitive, which makes me happy, but makes it much more complicated. plus. We are going to enjoy the moment, after here we will continue thinking about the things that there are to improve the subject and the illusion is to continue".