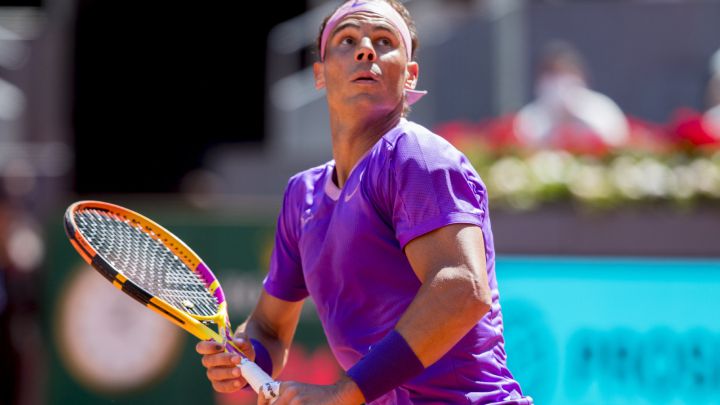 Rafa Nadal was satisfied this Thursday with the pass to the quarterfinals of the Mutua Madrid Open. The Spaniard defeated Alexei Popyrin (double 6-3), 21-year-old Australian and number 76 in the world, in the round of 16 who dropped Sinner in the second round. "It was the first time that I faced him and he is young, with that energy typical of his youth. In the end I was able to play the game I wanted and I am happy to go to the quarterfinals, "he said.
"We all know how fast the ball is here, faster than most clay court tournaments. He started spectacularly, I lost the first seven points. It has been important to save that 0-40 and from there, little by little, I have been trying to guess what things he does better and worse, "the match analyzed.
Rafa believes that he is picking up the right pace after leaving some doubts at the start of the gravel season in Monte Carlo and clearing them later in Barcelona: "Here it is more difficult to speculate, especially playing against players who attack all the time. I have to be aggressive, be at my level, and that's where we are. I have prepared well and the evolution is being more than positive". "Tomorrow will be a difficult game, I hope to be ready," he says of the quarter-final match that will face the winner of the clash between British Dan Evans and German Alexander Zverev.
At the press conference, Nadal spoke about Roland Garros, but to clarify that he is not yet pending the French Grand Slam. "I'm in Madrid. I don't think about Roland Garros when I'm in Madrid or what is missing or what I have. Every day I try to be better. I do not believe in specific preparation processes for something special, but in short-term work and that is Madrid, Roland Garros in the medium term and the entire season in the long term. "He also valued his career positively: "I am happy because I have not competed very much and I am doing well. I reached the quarters in Monte Carlo, I won Barcelona and here I am already in the quarters. Playing and winning games gives you confidence and you know that you are going to give that minimum. I can do better but to this day I have no complaints about my game and I can take steps forward. "
Rafa referred to what he "misses" in bubble tennis: "Contact with people. I have part of the family close to me who watch the games and I can't see them. Get out of the routine and for tennis players having our days and that you go out and disconnect in this case you have to stay at the hotel. We are lucky to be in good hotels, we are lucky and we have what we need at our fingertips. Zero complaints and I hope we'll be back to normal soon. "
"Zero complaints"
And he refused to complain about the situation: "Everyone has the right to have their opinion and I don't think we have been more successful in our sport because of the capacity for sacrifice. We have all complained at some point and if we are better it is because we have the talent that Mother Nature has given us and the work to develop it. We have had a difficult year and it is normal that there are people who lose motivation and are tired. I am almost 35 years old at another time of my life and I have been able to decide to play more or less and others cannot do it and they have the need to play every week and go from club to hotel and from hotel to club because it tires. But that harshness has nothing to do with the reality that other families in the world have suffered, in terms of health, work or companies ".