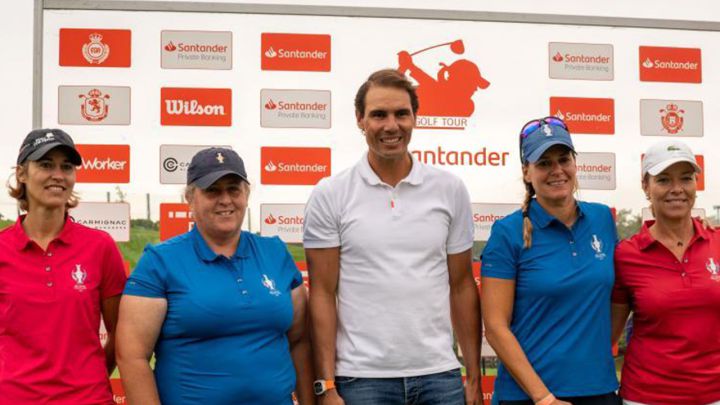 Rafael Nadal, who is recovering from a left foot injury that caused him to finish early this season, He publicly reappeared without crutches on Tuesday when visiting a Pro-Am tournament at Golf Santander.
Nadal underwent treatment on his left foot last Thursday for an injury that will keep him off the slopes for the next few months, and this Tuesday he visited the Golf Santander course by surprise. The tennis player even challenged four of the Pro-Am players with the putt, specifically to the four professionals present who have some participation in the Solheim Cup: Tania Elósegui, Raquel Carriedo, Paula Martí and Ana Belén Sánchez.
"The professionals competed with Rafa Nadal on the 18th hole green, with a symbolic putt stroke that showed the quality of the tennis player also on golf courses", informs Santander.
Nadal, handicap 1.2, showed that golf is one of his great passions. In the challenge on the 18th hole, Tania Elósegui was the professional who managed to get the ball closer to the hole, ahead of a Nadal who was about to hole in his first attempt. Subsequently, Paula Martí, ambassador of the 2023 Solheim Cup, which will be played at Finca Cortesín, gave Nadal her credentials as an ambassador for said tournament.
As for the Pro-Am competition, the team led by the Madrid Adriana zwanck He took victory on the first day of the Santander Golf Tour Leyendas. The team consisted of amateurs Lorenzo Granell, Felipe Martín, Susana García and Soledad Pombo.