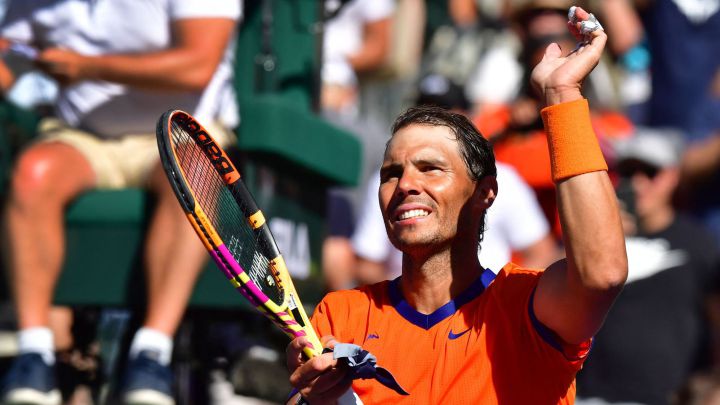 After beating Daniel Evans in two sets and getting into the round of 16 at Indian Wells, with better feelings than on the day of his debut against Sebastian Korda, Rafa Nadal attended the media and spoke, among other things, of its evolution, and also of one of the hot topics in the tournament, the farewell of Naomi Osaka in tears after losing against the Russian Kudermetova destabilized by the insult of a viewer.
Best level: "Not at first. But yes, I improved a bit. It's an important victory against a difficult opponent. It's not an opponent that is easy to play against. He plays very well tactically, using his slice very well, then aggressive, changing rhythms on points. It was a positive win for me. I'm happy to save that difficult moment in the first set, then things got better."
Give up Miami: "I haven't played in Miami for the last few years. I'm almost 36. I played a lot more than I expected earlier in the season. It's not good for my body to have quick transitions from different surfaces. From clay to hard, well, from hard to clay… If I play in Miami, I won't have time to rest or make a quick transition to clay. I need to push very hard from the beginning, that's dangerous for my foot, for my knees. I need to make that transition step by step I can't make drastic changes like I've done in the past, which is why I decided to stop after here and have, like, three weeks before the clay season starts for me."
Settings: "Well, I think my serve was a little bit better today. I don't know the percentage. Maybe it's not that high. The feeling on the serve has been better. I think I started hitting some winners with my forehand, something that the other day I didn't have. Today, of course, at the beginning it wasn't perfect, but the feeling with the ball with the drive starts to become more comfortable to have the opportunity to change direction more often. It goes step by step. Today was a step forward. I have another day tomorrow to train. So, we'll see. It's going to be a very tough match. I don't know my opponent yet (it will be Opelka). But either one will be a different type of opponent. Both are good. No there is another possibility than to play very well if I want to continue. If not, I will go back home. I hope I can raise my level. I am not far from it, so let's see if I am able to make it happen."
Osaka: "These kinds of questions are hard to answer, because the easy answer for me is that I feel really bad about what happened, which should never happen. The real thing, in the real world, that happens, you know? I'm really sorry for her. We are having, in my opinion, a great life. We are very lucky people to be able to enjoy incredible experiences for our life, because we are tennis players. We make money. Even if it is terrible to hear that, we must be prepared. We need to resist this type of problems that can happen when you're exposed to people. At the same time, because we really like that people are supportive, when something like this happens, we have to accept it and move on. I understand that Naomi probably suffered a lot with her mental problems. The only thing I wish him a good recovery from that and all the best. But in life, nothing is perfect. We have to be prepared for adversity."
A place to see in Spain?: "I don't know. You're going to like a lot of places in Spain, so I can't tell you one in particular. You can visit Ibiza, you can visit Menorca. My neighboring islands are beautiful. The south is amazing. Madrid is doing fantastic. I mean , there are many places where you go to have fun. I think we need people in our country to visit us. I think we are good at this, welcoming people, treating people well. I think a lot of people who visit our country come back with very positive memories.
Level of play now relative to Australia: "I don't know. Honestly, things aren't that clear in sport. Things change very quickly. In our sport I don't think you can answer one thing clearly, I'm playing very well, I'm playing very badly… Things they change quickly. You have to be prepared to accept anything that might happen the next day. In Australia, I was playing very badly at the beginning. The first tournament, although I won, I played a couple of very bad matches. Completely normal after such a long time without competing. That was the truth. Two and a half weeks later I was playing fantastic. So I don't know. The only thing I can say is that you need to work hard enough to be ready if things change. If you compare my level today with the semifinals or the final in Australia, it's worse for sure. But what can happen after tomorrow? I can't tell you. It can be bad, but at the same time it can be very good. When you're in a very negative dynamic, it's very hard to play bad one day and after two days playing fantastic. You have a long dynamic that you normally don't make these changes that fast. When you are playing very well, you have a bad day, and you can get back to the high level very soon. You never know what can happen. It was very important to be able to win these first two games without playing fantastic, but today was a little better than the first day. Now I have a rival in front of me that makes me play at my highest level. I know I have to. Sometimes it's a mandatory thing that helps make that happen."