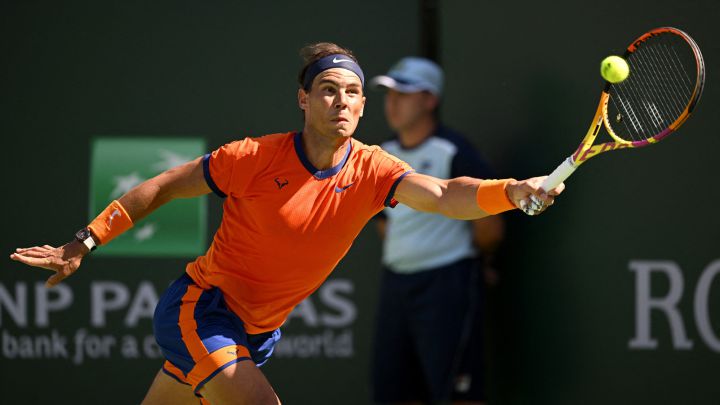 Rafa Nadal is already in the Indian Wells quarterfinals, where he will face Australian Nick Kyrgios. Not without effort. Reilly Opelka, the tallest tennis player on the circuit (2.11 meters), is always a demanding opponent. Especially when it comes to wear. Continuous jumps to subtract the serve after bounce, races towards balls with devilish speed… After the victory, the Balearic tennis player spoke to the media and valued the match, being, at the same time, the best, in his opinion, so far on US soil and the one that has generated the most problems on a physical level.
Foot pain: "Yes, sometimes I play with pain. Today I started well, but in the second set I felt a little worse, to be honest. I was able to keep going, keep running until the end… But yeah, I'm not in the moment to lie or hide things. I'm very happy to be playing tennis. Today was a little worse than other days. It's true that the last two days my foot has been bothering me a little more. It's something that can happen. We know. We have to treat to stay positive and think it's going to be the last hard court tournament. The clay will help. Now I'll have to do my best to do my best here. Hopefully the foot can hold up. I'm not thinking much about the foot, just I'm thinking about my tennis and my next match."
Best match of the tournament: "Happy to win, no matter how many sets. But I am happy, of course, to be in the quarter-finals of this great tournament, playing better, without a doubt. It has been my best match of the tournament and I am happy with the way I was able to play the whole game. I just played a bad game. Other than that, I think I played solid. I had to do it against a very difficult player like Reilly."
Rooms against Kyrgios: "Nick is tough in any condition, isn't he? When he's playing well and when he's motivated he's one of the toughest opponents, without a doubt. Tomorrow is going to be a tough match, but we're in the Indian Wells 1000. We can't expect anything else. I have to expect a very tough opponent and that's how it will be. I hope I'm ready for it."
Changes in the tie-breaker from Roland Garros: "Well, I haven't given it much thought, really. Honestly, I don't have a clear opinion. I'm not for or against. I think that's what they decided. Happy with it, I don't care. Honestly, I don't think I'll go." It's going to make a big difference. I read that all (the Grand Slams) are going to be the same. In some ways, that's positive. I don't think it will change much at Roland Garros. In my opinion, the biggest impact is going to be at Wimbledon. It's very difficult to break, so the matches are very long, but I don't feel that it changes much for Roland Garros".
State of form: "The human mentality, normally, makes you get used to good things. For me, I'm not that kind of person, I don't think about the past, in sporting terms. I just try to move on. That's how this sport is, in my opinion. You don't have a lot of time to be very sad when you lose and you don't have a lot of time to celebrate when you win. Of course, for me it's super surprising to be in the position I'm in, winning three titles already, to be in the quarter-finals here, Indian Wells. I can't say it's a dream because I couldn't even dream about it three months ago, two months ago, the only thing I can say is thank you to everyone who helps, everyone who supports me around the world, and thank you to the life for this amazing opportunity that I'm having. I'm just enjoying every moment of it."
How to get out of bad times: "Well, today I conceded a break. I played it horrible. But I don't know. I just feel like it's important, in my opinion, to know yourself, to know the things you have more control over and, in moments of pressure, to play with the shots with which you feel most confident. In terms of maintaining pressure, there are different facts that help. The first is confidence. Depending on the moment you play better. When you are confident, you are winning matches, you feel more relaxed. It is more easy to play at those times. Another thing is training. Throughout my life I have trained at a very high intensity. I take each training session as a professional match, I have put myself in this position almost every day of my life since I was a a child. It helps to get through these kinds of moments."
Stop Opelka services: "I don't have a secret or thing that is sure to work. I can tell you what I tried. What I tried is not to help him. Play from good positions, especially when I'm serving. I tried to play with a high percentage of first serves, especially in the tiebreaks, because then if you start losing first serves, you open the door to it, it's not in your hands anymore.Find the right balance between not playing too aggressively, because then you risk making mistakes, and not playing too defensively because You know he has a great forehand and he's going to go for the winner."