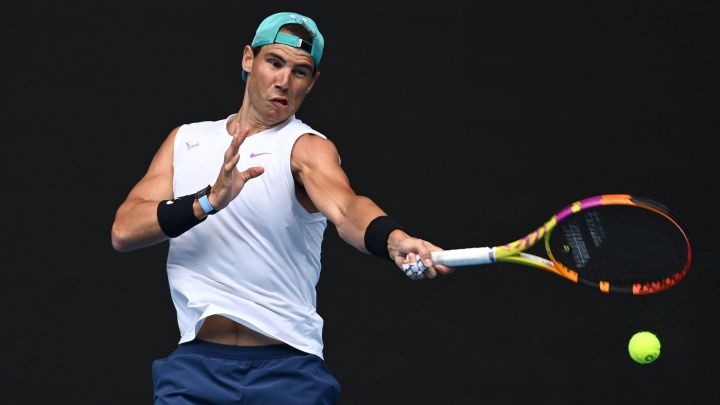 Rafa Nadal attended the media from Melbourne two days before making his debut at the Australian Open and could not avoid the questions about Novak Djokovic's situation and his possible expulsion from the oceanic country, a fact that would completely change the tournament.
The Djokovic mess: "I tell you one thing, it is very clear that Novak Djokovic is one of the best players in history, without a doubt. But there is no player in history that is more important than an event, right? The player stays and then goes away, and other players come. No one, not even Roger (Federer), Novak (Djokovic), myself, Bjorn Borg, who was amazing at the time, tennis goes on. The Australian Open is much more important than any player. If he plays eventually, that's fine. If not, the Australian Open will be a great tournament with or without him. That's my point of view."
Lessons from this case: "I don't know. I think the situation has gone too far. Honestly, I'm a little bit tired of the situation, because I think it's important to talk about our sport, about tennis. We went through and are going through very challenging times globally, certainly with this pandemic. I mean, I know that tennis is not important compared to what we are facing now, this virus, right? Tennis is just an entertainment sport for people, and for us it is our job. As for the importance in the world, it's not important. That said, for two years we went through some difficult times, no, because many players have not been able to survive the pandemic because the prize money has been reduced. We have been traveling with little people by our side, without the full team, without the family, a lot of people and a lot of people from countries outside of Europe or America, North America, when most of the tournaments have been going through very challenging times. growing in bubbles, all these very challenging times must at some point end because it is very difficult to continue running a tour with tournaments losing money, with players going through mental problems because of all that. If there is any solution, and the solution is the vaccine, that's it. We need to be vaccinated and the situation must be better for the well-being of all and for the health of our sport. But I repeat: we are here to talk about tennis. As I repeat: it is not important to compare what is happening in the world, many millions are suffering. Talking about our sport, that's the thing, that's the way to proceed."
Serbian Legacy: "I don't know. In a way it depends on him. I wish him all the best. I think I had a good relationship with him throughout our career. We did important things, as I said, for the circuit, for our foundations, for charity. We have been together when something negative happened here in Australia or around the world. But in this case there are many, from my point of view, many questions that need answering. Somehow I think it will be good if everything is cleared up soon, right? "About his image? I mean, everyone chooses their path. He respects himself as a person, of course, and as an athlete, no doubt. I respect him a lot, don't I? I wish him all the best. I really respect him, Although I don't agree with a lot of things he did in the last two weeks."
Break: "Well, unfortunately I went through this situation a couple of times in my career. But you never know. The day will come when the comeback will be impossible. But I just want to try again, right? I want to do my best. I want to give myself the opportunity to continue to enjoy this beautiful sport, to continue to fight for the things that I've been fighting for for the last 16 years. less normal, I will have my chances to be in an important position on the circuit and give myself opportunities to continue fighting for important things. That is the main goal for me. The first thing, to be healthy. Then to maintain the passion, which is sometimes difficult when You're going through a lot of physical problems. But it's something that I'm very pleased with, because it's been a very challenging time for me, hasn't it? The last year and a half with my foot, I've been in a lot of pain. I think I keep o Positive attitude and working spirit all the time. That's probably why I'm here today."
Doubts: "I try not to answer, not to ask myself a lot of things. I mean, that's why you're here, but… (Laughter). I don't know. I just try not to think too much and move on, right? I mean, when you come back of injuries and a period of time that you do not go to the circuit, you have to accept that things are not going to be perfect. That is the main thing for me, accept that you are moving sometimes a little, a little slower, than Sometimes you're going to lose, sometimes things don't go so fast and so automatically. You have to think more about how to play, about shooting, about technical things. But it's about time. I know that. You need to forgive me for mistakes and be humble enough to accept the process, accept that sometimes things are not going to work out that way, and accept that of course there is a greater chance of losing, accept that, then it is time to move on, to play with the best possible attitude , better than ever, then try to play your best to give yourself chances. you quickly. What seems very difficult today may be that in a couple of days the perception, the personal perception, the perception of everyone, changes a lot. I want to give my chance for that to happen."
Sensations: "Well good. Hopefully good. First of all, I'm happy to be here, more than anything else. That's the main thing for me, to get back on tour. I've already played and I've had good training days. As I said before After the first tournament, I came here only with the clear goal of being back on tour. That's the most important thing. So if I'm able to win matches, improving every day, fantastic, right? But the main thing is to come back. I'm enjoying that fact. I'm excited to play a Grand Slam again here in Australia."
Post-COVID feeling: "Well, I had been very sick during COVID, it took me days to recover the truth. Those seven days were not good, especially the first four, very hard. But after that day by day I felt a little better. No I know if I have any negative feelings after COVID because I've been off tour for so long you never know why one thing or another happens. Generally speaking, I feel happy. If you tell me that I'm going to be in my position today one month, of course I will sign the paper without hesitation saying that I will be in this position and in this situation after all the things that really happened. Just enjoy the training and feel like a professional tennis player again. I am playing good tennis ".
Possibilities: "One day we will see. I can't give you a clear or precise answer because I haven't played the best of five sets since Roland Garros. I only played three matches in the last six months. It's obvious that it's not clear at all. I just want to go day by day. Of course, I'm going to keep doing my best to improve. But practices help. Practicing here with the guys and playing three matches last week. Let's see how things start at the Australian Open. every day I spend on the court, I think it's positive. Every game I can win is very important for my confidence, it's important for my physical performance and you never know what can happen next."