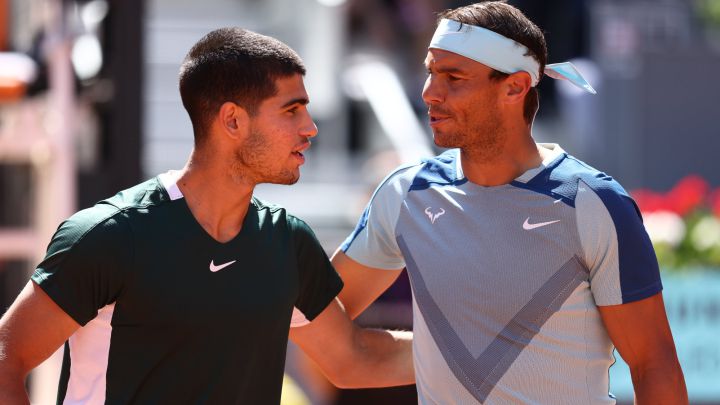 Quiet, accepting defeat and looking to the nearest future. This is how Rafa Nadal showed himself in the press room of the Caja Mágica minutes after his defeat against Carlos Alcaraz. The Balearic tennis player admitted that the Murcian "has been better"and also confessed that "I didn't want to start in Madrid", where the conditions are very different from those of Roland Garros. These are Nadal's words at a press conference:
Relief: "The first thing is to congratulate him. I obviously take over. If he is from today or not, I don't know, we'll see over the months. First of all, happy for him, he has been better than me in various facets of the game and I need improve these days. It is accepted naturally and calmly, with the certainty that there is a path to follow and arrive with real options to generate opportunities. It is an easy defeat to digest, we knew what we were coming here for and we have to congratulate Carlos, He is playing well and I wish him the best for the rest of the tournament."
Physical state: "I'm fine, I haven't had any problems. I'm not going to talk about my foot today, it's a day to accept defeat naturally. I have to improve my reaction capacity, speed, dynamism, read and My legs are with me… It's been a few days training on the ground. In the end, I'm the one who has to do self-criticism and be clear about what I have to improve. I need to hit the ball deeper, have the ability to turn with the drive more times and faster, and the speed that improves with days and games. When you come back after a while you have to accept things as they come, there is a medium-term goal that overcomes any sadness".
Progress: "The reading is that I have played three games and arrived with zero preparation. I have lost to one of the fittest players in the world, having my options as well. When you arrive with a positive dynamic, it is easier for key moments to fall from its side by inertia. On top of that, it's very good, so I'm totally calm and know that it was something logical, I've been with the right attitude. I haven't been able to do what I needed to do today, but it's time to work and trust that things go the right way."
Getting to Roland Garros well: "You cannot analyze so much because Madrid is a special tournament because of the height, it is the tournament that is furthest from Roland Garros. It was clear to me that I did not want to start playing in this tournament because it is the most complicated of all. There are times when Injuries do not allow you to do things that you think are more appropriate for tennis evolution. For me, it would have been more appropriate to play again last week in Estoril, at sea level, in a 250 tournament, but I did not arrive and it could not be I couldn't risk it. I came here knowing that it is the most difficult tournament, the ball flies much more and you need to be faster with your legs, it is easier to lose confidence in hitting. We know all that, what has been done has been done It has been possible, but in no case has it been a disaster. I have spent many hours on the track, it is positive, and I am already looking forward with optimism and enthusiasm. For things to go well, one has to believe".
Alcaraz against Djokovic: "I haven't seen Novak play this week. I don't know what will happen tomorrow, he plays one of the best players in history against a youngster at a very high level. Carlos can win perfectly, I don't see any reason why he can't win. It is true that he cannot have a slump like the one in the second set. He plays a lot with moods, when his adrenaline rises he is practically unstoppable. Then, of course, he makes mistakes because he plays with a lot of risk. I think he has the level to beat anyone in the world, without a doubt".