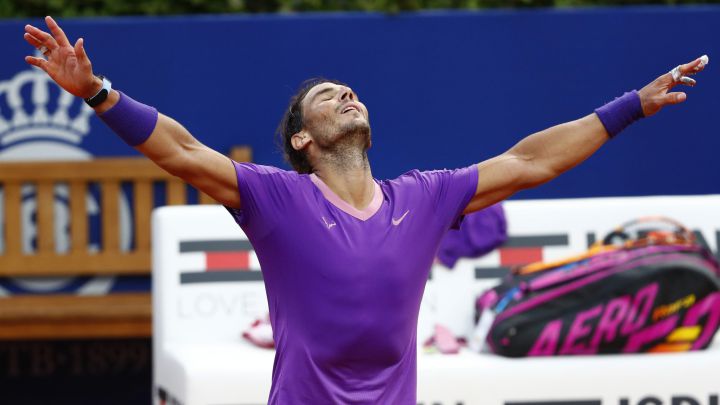 Despite COVID-19, Rafa Nadal did not forgive his usual dip in the pool of the Real Club Tenis de Barcelona after lifting the title, in this case the twelfth. The Manacorí then gave a press conference.
How important is this victory to you?
It is an important victory for me. First, because it is a historic tournament in our circuit, in my club and that I have also seen since I was little. It is the perfect time to win the first title. This week helps me face what comes with a positive mindset. I still have room for improvement.
What do you think was the key in the third set?
They decanted the balance one or two points. I went ahead, but I had mistakes and even he had a match ball. The third set had a lot of level. It was exciting, it was fought to the fullest. Matches like this help to improve. It is an emotional victory, to win again at the Godó means a lot.
How did you experience a game played so to the limit?
I lived it as always, point by point, moment by moment. In the first set he was better but he failed in the end and I took him. And in the second set it was the other way around. I had two match balls, but he played very well. I have nothing to reproach myself for. He served well and was aggressive. The third set had positive things and on a mental level it was important. Also, I resisted. I need to take a step forward and this victory can help me.
Tsitsipas said that you are the player who hates losing the most on the circuit. Do you see it like this?
I don't hate losing, I like winning. I love to compete. I like to strive to achieve the objectives. If you don't fight in a final, when will you? I always respected the sport, its essence, and the rival. It is my attitude to life. Strive every day to play as much as possible. You always have to try to reach the highest level.
After winning another year another title, do you look back a lot and how do you feel about what you have achieved?
I try not to look back. You can't get lost this season and be pleased with the titles. When you finish the race you look at the past. I am grateful to life and very satisfied, but we live in the present. And I want to be prepared for it and for the immediate future. Everything I have achieved is incredible, but I try to enjoy and keep pushing myself.
Tsitsipas proved to be a very tough opponent. How do you see it for the future?
If you play like today you are one of the candidates to win any tournament. He is a very talented tennis player, number one of the year.