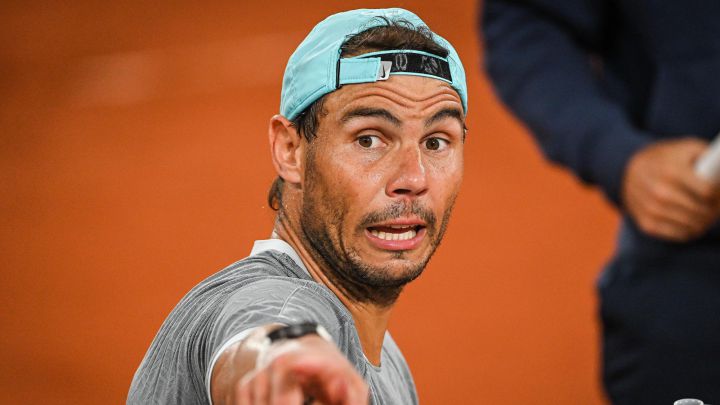 In a very good mood, freshly showered and wearing a resplendent white polo shirt, Rafa Nadal appeared at the press conference prior to the start of Roland Garros convinced that he can have "a good result" in a tournament that he has won 13 times, although he admits that he does not see himself as the great favorite. He will debut on Monday against Australian Jordan Thompson.
Paris help?: "In principle, it is not that everything that has happened here or the fact that you have won games helps you. If you manage to put yourself in a position to achieve the right feelings, I think these positive feelings increase. In the end, you know that you have done it other times, and when you begin to feel good on the court and gain a little distance, and the shots begin to go where you want, as it is a place where you have played so many times, you are very familiar with the way of playing on this track. What you have to do is play well and start playing well. That's the difficulty. If that happens, it's true that this place has been good to me historically and that it can be good again, I think so, but I must continue to have the opportunity to train well these days and later, when the competition arrives… It is evident that the draw is a very complicated draw, and that arriving as it did, without any doubt I would have preferred another type of draw, but it is also true that I have a way r forward to go, and I have no choice but to think about Thompson, and build my options little by little from this afternoon, from tomorrow, from the match. We are going to go day by day, we are going to take things positively. In sport, what seems impossible today, after a few days stop seeming impossible, and even start to seem very possible. Sometimes that doesn't happen, but other times it does… and I have to be prepared in case this click happens. I don't think it's that far, far away."
Comparison with Australia and mood: "If we are not mentally well, everything else is impossible, and even more so if we arrive with a fair preparation and without the ideal results, either due to injuries or for whatever reason, but they are what they are. This is the reality I'm not much of a speculator: what there is is what there is, and from there we take it as it is, look for the reasons… It is what it is. One has to accept the realities of each moment. In this sense, I will not lack courage. From there, we have to build strength daily with work and with the optimism that things can get better. If we compare it with Australia there are better things and others worse. training, I got there with very little preparation, although I must say that the foot was better than it is now, and that is a very important advantage, it is true that my foot had been very bad for months, but when I got there it was better and that allowed me to be a little more calm. I am confident that e he foot is not going to bother me here during the competition, and that is something I trust; the fact that Ángel is here, I think he can help me decisively. Afterwards, it's a tournament I'm very familiar with and I've been successful at, so if I'm playing well, it's true that my chances are higher than in Australia. History has said it. In Australia he had been able to train for weeks at a good level; here, for different reasons, first because of the rib and then because of the foot problems… I don't know. I'm not much of thinking about things. I am to accept the situation and try to put myself in a situation where we can have real options to compete, and then we will see what happens. Let's not speculate too much, let's take things as they come and fight for things until the end. I don't know how many Roland Garros I have left to play, because you're not stupid and you know that the opportunities are finite, and I want to give myself as many options as possible."
Pressure: "There is nothing outside of who I am as a person that generates an extra one percent of pressure for me, more than the illusion that I have. I am almost 36 years old, I have won 13 times here and I know what there is. There is no written in the press or any opinion from any fan that adds 0.5% pressure to me, because in the end the pressure I generate for myself outweighs anything that comes from outside. I don't think I play to prove anything. my enthusiasm, my motivation and my personal challenges. I do what I think I should do with my team so that things go in the best possible way. Sometimes things go well and others badly. In Australia, something that seemed impossible was won, because of where we came from, and here we are before another opportunity. It is not an obligation or anything like that, as it has sometimes seemed in past years. We are before another opportunity to compete here again and I am going to try to do my best to generate another opportunity" .
Recovered?: "Well, yes. Actually, there was nothing to recover from. What happened in Rome is something that happened to me very often in my training. I was in pain after that for a couple of days, but I feel better. That's why I'm here. What happened there I think everyone knows, and I spoke after the game very honestly about what's going on. But at the same time I said it's something that can go better in the near future. And I hope that's the case here".
Pain in Paris: "I don't think it will come and go. And I don't think that's the real goal. The pain is always there. It's not about it going away now. It's about whether the pain is high enough and strong enough to allow me to play with real chances. or not. I won't be talking all the time about my foot, although I understand that it's a normal thing to be asked after what happened in Rome. But in my case, it's something I live with every day, so it's nothing new for me and it's not a big surprise. I'm here just to play tennis and try to make the best possible result at Roland Garros. And if I didn't believe it could happen, I probably wouldn't be here. I'm working as much as I can, and training best possible. My real goal is to put myself in a position where I'm healthy and playing enough good tennis to give myself chances."
Happiness: "I simply enjoy and enjoyed my entire career to be where I am. And I always feel very privileged and lucky to have the opportunity to enjoy all the experiences that I am enjoying and living thanks to this sport. And here I am at Roland Garros, another year. It is a place that I know well, that I consider the most important in my tennis career, without a doubt, and with many positive memories. My real goal is to train well, put myself in a position to be competitive from the first round, and then Let's see what can happen."
Best player in Paris: For a while I was the best here, but I don't think so anymore (laughs). I also won 12 times in Barcelona and 10 in Rome and I think 11 in Monte Carlo, so there is probably not a big difference between Paris and the rest of the places. It is true that here I won maybe a couple of times more than in the rest of the places, but I consider that my level of tennis on clay has been high for a long period of time in my career, without a doubt. That's what the numbers say. Unfortunately, this time I didn't have the preparation that I would like, and unfortunately that rib fracture stopped a little the great moment that I was having since the beginning of the season. But in sports, things can change quickly, and the only thing I can do is try to be ready if that change happens. Today it looks difficult and it seems that there are players who are in better shape than me, but you never know what can happen in the next few days. The same thing happened in Australia, and I put myself in a position to take a chance. And here it is no different. In the event that that can happen, which is difficult too, all I have to do is believe in my possibilities, believe in my daily work, and then stay positive and believe in my real possibilities."
Favorite: "No, because the results say that I am not, but it is something that never worried me much. Probably, when I was the favorite I never considered myself that way. Of course, I am one of the candidates. I considered myself throughout my tennis career as one of the the candidates here, because I was successful. Now, before the tournament starts, I don't think I'm the favorite at all. But you never know what can happen (smiling).
Picture: "Mentally, for me it doesn't matter. In terms of tennis, of course the top of the draw you see the names and it's very difficult. But we are in a Grand Slam, and you never know what can happen. A lot of things can happen before to get to the matches you're guessing about. All I can say is I know. That's never been a problem for me. I'm probably humble enough in that case to be focused on my first match. It doesn't matter if I know exactly where I am and what possible rivals I can have. But, let's see. The only thing I would like is to be a player who can face these other greats."