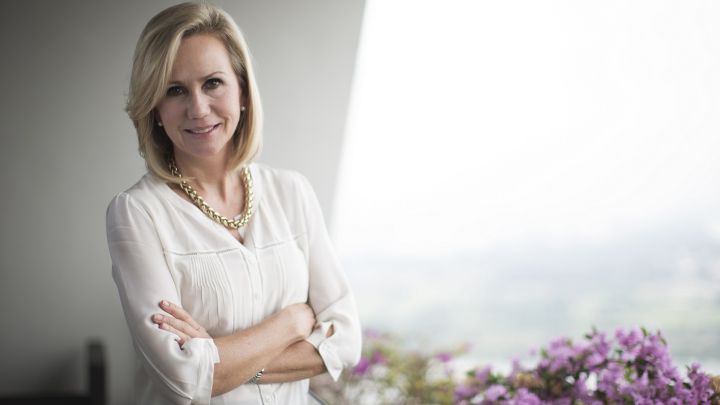 Micky Lawler has been ruling the WTA since 2014 and with it came the great expansion in Asia. With Shenzhen he won a juicy contract to hold the Finals in China for ten years. But the pandemic forced them to relocate in Mexico. The Dutch, who represented tennis players such as Richard Krajice or Amelie Mauresmo, attended AS from Mexico.
-What does it mean for the WTA to celebrate its first Finals in Latin America?
-Together with the local government we have achieved something miraculous, working day and night in the last month building everything from scratch. It is very important for Latin America.
-And having representing the 'Latin power' with two players like Garbiñe Muguruza and Paula Badosa?
-Great luck! They have both had a very good year. Garbiñe was already one of our top teams and she looks very happy to play in Latin America. And Badosa ended up blowing up in Indian Wells. For Spain it should be a pride, and also this land is like a second home for them.
-This year there have been four different Grand Slam champions. Someone as surprising as Emma Raducanu. Do you like this situation or would you prefer more references?
-You have to see the positive side. What happened with Nadal, Federer and Djokovic is fabulous, but we were criticized twenty years ago because the same women always won. Now there is an incredible variety of game and a very high quality. Everyone knows it. For the casual fan and for the marketing it would be positive if there was a consistent rivalry, but this depth is also attractive.
-Naomi Osaka, with four Grand Slams in the last four years, seemed destined to be that benchmark. But his mental health problems prevent it for now. Is high competition too demanding?
-It's a mix. We must work closely with managers and parents, because when a tennis player wins a Grand Slam there are great opportunities to be brand ambassadors and that is attractive. But you have to balance sports work, already intense, with those other responsibilities. That is sometimes not well understood in their environment. Every time they have more and more work and you have to know how to measure.
-How is the vaccination process among the WTA players?
-The percentage is very high. To enter Australia it will be mandatory. One must have many things against not to be vaccinated. It is going to be difficult to get around without a vaccine. Before, doses were not available worldwide and we had to create bubbles. But not anymore. Australia has been closed several times and it does not make sense for foreign athletes at risk to go. I think we will reach 100%.
-Don't you see problems with one of your big stars?
-No … Maybe in men's tennis (Djokovic or Tsitsipas have expressed their doubts).
-What has the cancellation of the entire Asia tour due to the pandemic meant for the WTA? Back to normal?
-A huge financial loss. In China we had two very big events and the Finals. Or the Japan Open, Thailand … There is time until the autumn of 2022, but we have to see what the development of the Winter Games in Beijing in February is.
-Muguruza and Badosa resigned from the Billie Jean King Cup due to the proximity to the WTA Finals at more than 11,000 km. Shouldn't this be better coordinated between ATP and ITF?
-We had been working in Prague for months to celebrate the Finals there. We tried to do the two competitions together, but in the end an agreement was not reached, unfortunately, and the event had to be transferred in two months to Mexico.
-Tennis is one of the sports that has done the most for equality between men and women. But what is still missing?
-In major events there is already equality, especially because commercially there are no differences in sponsors. For example, Mutua Madrileña in Madrid. They generate equality. Yes, there was a lot of fighting at the beginning, and the television rights are still not the same. In prizes we have also grown a lot in the minor tournaments. We need time to raise the profile of women's tennis. The importance that equality has taken on socially, even in the Middle East, is helping.
-Will we see a union between ATP and WTA?
-I wish! This year there is already an integrated marketing team. Culturally it is a very big step. They are willing to do it, it is fabulous and it has very important social implications. I have been in tennis since 1986, I have lived the evolution. When I started, women had to fight to earn a living and now we are on another level.
FROM THE 'DJOKOVIC MYSTERY' TO THE RECTIFICATION OF SABALENKA
According to information from 'The New York Times', only 50% of professional tennis players had been vaccinated in August, when the US Open was played. "It seems incredible to me that society judges you based on a vaccine and I do not want to participate in a war that the media is promoting. For this reason, I will not reveal whether I have been vaccinated or not," Novak Djokovic declared then in Blic. And to this day it remains unconfirmed. Stefanos Tsitsipas was not clear either. "I am under 25 years old and the vaccine has not been sufficiently investigated," he said in August. Meanwhile, number two Aryna Sabalenka, who said she was "suspicious" of the puncture, contracted the virus and was unable to play Indian Wells. He rectified, and Mexico has traveled with the dose, according to what he said.