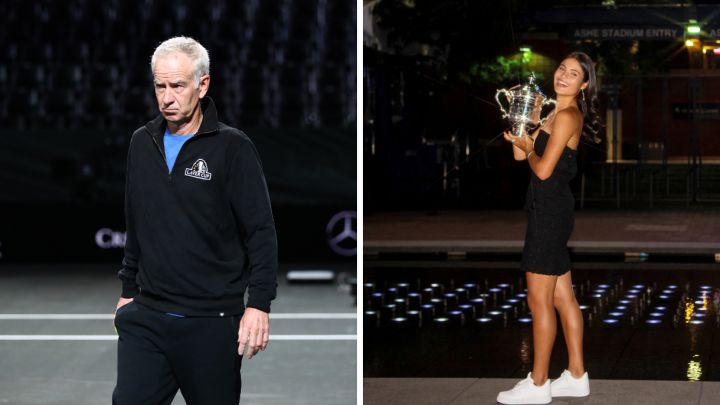 John McEnroe was met with a harsh reaction to comments he made about Emma Raducanu following her abandonment at Wimbledon last July. However, the American said he was "very supportive" at the time and praised the British tennis player after her victory at the US Open.
In his Grand Slam debut, Raducanu had to retire in the round of 16 at Wimbledon due to respiratory problems, while McEnroe, who commented on the match for the BBC, claimed that the occasion had been "too much" for her.
Following criticism of McEnroe for his remarks after Raducanu's title, the three-time Wimbledon champion confessed that his words had been out of proportion. "I wanted to say exactly what I said," McEnroe told CNN host Christiane Amanpour in an interview before adding: "I tried to relate it somehow to my experience when I first played at Wimbledon at age 18."
McEnroe tried to justify the claim he made at the time. "There are many advantages, but you also put a lot of pressure on yourself and have a lot of expectations for you. I think I was very supportive of her at that time. However, you know what newspapers in England are like. Sometimes they make a big problem where I didn't see anything. "
Raducanu, 18, astonished the world of sports last weekend when he beat the also adolescent Leylah Fernández to become the first player to win a Grand Slam after playing the previous one.
McEnroe also said he wondered how Raducanu would handle his fame after Wimbledon. "I don't think anyone can do better than she has at the US Open. It's crazy that she was able to do this."
McEnroe also said she hopes to see Naomi Osaka again soon after the Japanese announced she would be taking a break from tennis. "Osaka was very shy and introverted the first time I saw her, and I think she still is. Last year she came out and made a great statement at the US Open with her masks. It was fantastic. Now there is more attention to it. I hope God helps her handle the situation, because we need her for at least another 10 years, "he said.