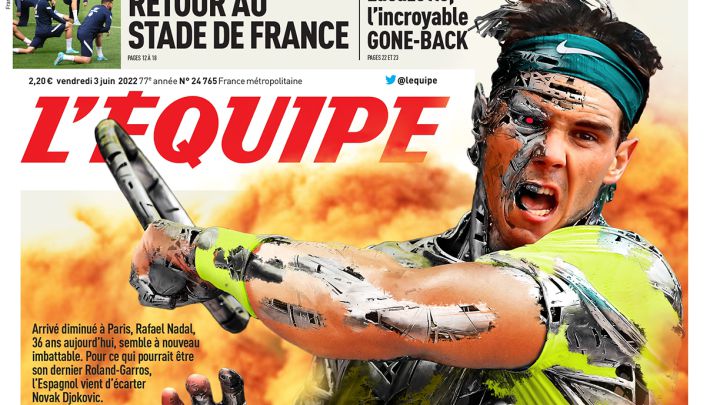 Rafa Nadal will be one of the great protagonists of the sport this Friday in his Roland Garros semifinal match against Alexander Zverev in search of a place in the grand final on Sunday, where if he passes he will fight to get his fourteenth title on the clay of Paris.
The French newspaper L'Equipe did not want to miss the opportunity to dedicate its cover this Friday to Nadal. In it, the Spanish tennis player appears as if it were a machine in the purest Terminator style next to the headline: "Terreminautore 2022. The final judgement?", a play on words between the character of the mythical saga starring Arnold Schwarzenegger and the words "terre" (earth) and "dominateur" (dominator).
On its cover, L'Equipe also points out how Nadal arrives at this decisive match against Zverev. "Despite arriving in poor shape in Paris, Rafa Nadal, who turns 36 today, seems unbeatable again. In what could be his last Roland Garros, the Spaniard is coming off defeating Novak Djokovic. He will face challenger Alexander Zverev ".
The mythical cover of the statue of 2020
This is not the first time that L'Equipe has dedicated a magnificent cover to Nadal before his semifinal match at Roland Garros. Before his match against Schwartzman, the French newspaper published a photo of the Argentine, Djokovic and Tsitsipas (the other two semi-finalists that year) next to a fictitious statue of Nadal with the headline "A statue to topple", in an edition in which Nadal won his thirteenth title at Roland Garros. With the statue made a reality a year later, Nadal will now seek to make the cover of L'Equipe good again against Zverev to seek a new title in Paris and dispel doubts about his future with Schwarzenegger's mythical phrase in Terminator: "I'm back ".