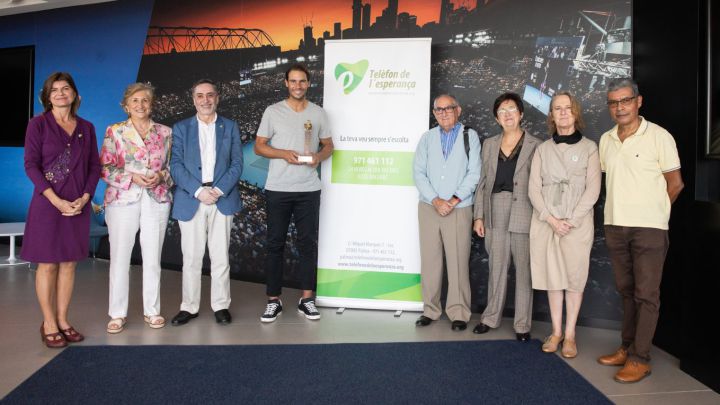 The Telefónica de la Esperanza has awarded tennis player Rafael Nadal with its solidarity commitment award, in the first edition of these distinctions, created on the occasion of the 50th anniversary of the entity, to recognize public personalities whose trajectory reflects the values ​​that the institution encourages. The award ceremony to Nadal was carried out in a "simple and intimate" event, held at the headquarters of his foundation, in Manacor, on October 9, the Telephone of Hope reported this Monday in a statement.
Meanwhile, in Madrid, at the presentation of the Spanish team that will compete this year in the Davis Cup Finals, the captain, Sergi Bruguera, was asked by Nadal, who will not be able to compete because he is still recovering from a right foot injury. "Rafa we already know that what he likes the most is competing for Spain and he will surely be touched by not being able to play or defend the title, which would make him a tremendous illusion. If you want to come and support, we will be delightedBut the first thing he has to do is recover to play again and compete again at Davis next year. "
The president of the Telephone of Hope, Miguel Ángel Terrero, explained that the award, on the occasion of the 50th anniversary of the foundation and 35 years in the Balearic Islands, wants to "publicly acknowledge the contribution of relevant people in society in achieving a more just and supportive world". "Our award may appear insignificant, due to the innumerable recognitions that Rafa Nadal has received throughout his career, but we want it to be received from the heart, since it is from the heart of the Telephone of Hope from which we offer it," he added .
Nadal thanked the distinction, recognized the important task of the Telephone of Hope, especially during the pandemic, and highlighted that, beyond the satisfaction that his sporting successes bring him, he is especially excited to receive awards that recognize his humble effort and that of its Foundation for capturing and transmitting values ​​such as solidarity. that contribute to the creation of a better and fairer society. Terrero presented the award to the tennis player accompanied by the president of the Telephone of Hope in the Balearic Islands, Antonia Torres and the spokesperson Lino Salas.