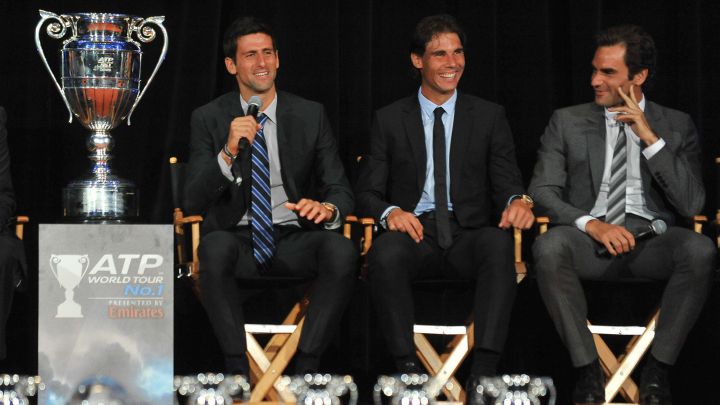 Roger Federer gave an interview to the British edition of GQ Magazine in which he analyzed tennis news in detail and also spoke about the injury that will prevent him from competing in this final stretch of the season and for which a return date has not yet been set.
Despite this, Federer was very satisfied with his performance at Wimbledon, the last tournament he has played. "I am very grateful to have been able to play again. My last year and a half has been very difficult with the double knee operation and the rehabilitation was very slow. I wish I was in better shape at Wimbledon. But in the end I played Wimbledon and made it to the quarterfinals! Overall it was a good tournament for me. "
The Swiss also justified his decision not to go to the Olympics in search of the Olympic gold in singles that still resists him. "The decision not to play in the Olympics was based on the condition of the knee and I knew that I could not play. I would do everything to play the Grand Slam and the Games, but I was not one hundred percent. That explains the sad face I made at Wimbledon. But an athlete has to deal with setbacks and now I have to figure out how to move on from here. "
Federer was also asked about the struggle between him, Rafa Nadal and Novak Djokovic to see who will be the tennis player with the most Grand Slam in history. "When Djokovic says that we will not retire he was never euphoric. I think it has been a phenomenal year and it will be very interesting to see how our careers continue. It is incredible that Rafa, Novak and I are in 20 Grand Slam. When I started, the record It was 12 and then Pete Sampras raised it to 14 and then I beat him in 2009 with 15, after tying him at Roland Garros and beating him at Wimbledon.
However Federer believes that an incredible tennis player will come to improve his records, those of Nadal and those of Djokovic. "I think we will see a new era of champions. Today it is easier to dominate on different surfaces, without detracting from what Rafa, Novak and I have done. Before there were hard court and clay players or not so many players who defended themselves well on all surfaces. Borg did, but things were different. They did not chase one Grand Slam after another or a record like now. So I think an amazing new player will break our Grand Slam streak, but not right away. "
Federer also wanted to talk about the pressure that many tennis players have been under recently, highlighting the case of Naomi Osaka and also the abandonment of Emma Raducanu at Wimbledon. "I have followed the careers of Emma Raducanu and Naomi Osaka. They are both incredible, but it hurts a lot when you see that they are not well. The stress is tremendous and I think it has a lot to do with social media. In my first 10 years There were no social networks, maybe a website, but now they are everywhere. The relationship with the press must also be reconsidered. I think that tournament players and journalists need a revolution, or at least an evolution compared to the situation today. We must help and guide the younger generation. I can't imagine what the beginning of my career with social networks would have been like, I don't know how I would have managed it. For every ten nice comments there is a negative one and you only focus on that one. It is awful. Even when I feel bad I know that I have to act in a certain way in front of the media. "