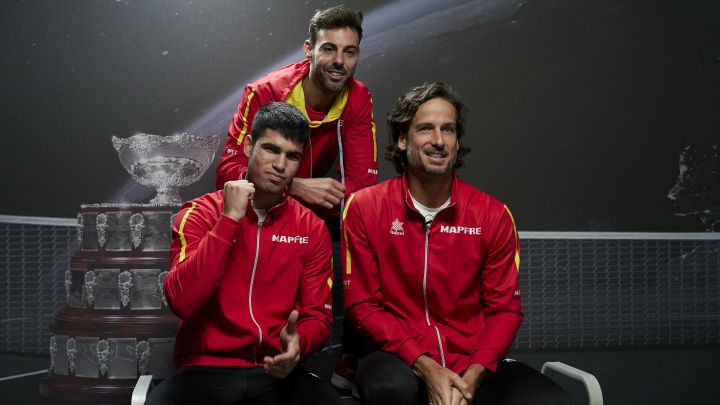 Feliciano López, director of the Mutua Madrid Open, went through the microphones of El Larguero on Cadena SER to assess how the first days of the Mutua Madrid Open have been. A tournament that, starting this Tuesday, will see the great figures of the men's circuit in action, such as Novak Djokovic or Carlos Alcaraz, among others.
Public Support: "The public support for the Mutua Madrid Open this year has been spectacular. All the courts are full. People wanted to return to normality and it is a very attractive tournament for the public because you can watch matches, training sessions and areas to see different courts "
The new track: "The project for the new track has been approved. It helps us a lot to have the Arantxa Sánchez Vicario track and Stadium 3, but to have another track for 8,000-10,000 people… I think it will be ready by 2025. We don't know if we will put it name, it could be Rafa Nadal, it would be very nice".
The memory of Manolo Santana: "It's hard that Santana is not here. He has contributed a lot to the tournament being where it is. In 2002 he convinced José María Álvarez del Manzano and, together with Ion Tiriac, he was the one who made it possible for this tournament to come to Madrid. It has been a very special person, he believed in me since I was little. He invited me to play for Mutua in 2002 and then life gives me the chance to work with him. As soon as the idea came up, he loved that I could be tournament director with him for a few years and that he was the ambassador of the tournament. We are missing him a lot, he was a very positive person. We will always remember him. We are going to pay tribute to him on Wednesday but we will remember him with joy, as he was".
Presence of the best in the world: "The ATP forces the best tennis players in the world to play the Masters 1,000 unless they have injuries. There is a rule that you can skip one or two Masters 1,000 tournaments if you meet requirements that are more than 600 years as a professional, more than 10 years on the circuit and if you meet a third requirement you can skip a third Masters 1,000. A Top-50 player is bound to come. Plus, it's perfectly placed on the schedule, they feel comfortable, we have the best clay courts in the world, together with Paris. Tiriac brought people from France to make the new courts and I only hear good things from the players. It is closer to being a Grand Slam than a Masters 1,000. Now the ATP project is that the more Masters 1,000 of ten days, the better. The idea is to make the 1,000 Masters of ten days and then adapt the rest of the tournaments. The plan is approved but the approval of the ATP executive is lacking, and I think it will go ahead next year or in two to us".
Alcaraz-Nadal in the quarterfinals: "I don't see a better match right now than Alcaraz-Nadal. Hopefully, but the tournament is very close. Nadal makes his debut on Wednesday, Carlos comes from winning in Barcelona… It would be a hypothetical match that everyone wants to see."
Djokovic's comeback: "Djokovic is happy, it seems that the countries are already letting people in again. It is costing him a little because he has played few games and the issue of vaccination has affected his schedule. He loves Madrid and Spain, he has a home in Marbella. I think the Mutua Madrid Open is going to give him a lot of confidence".
The irruption of Alcaraz: "It's very good news. His way of playing stands out. At a time when you see that many players play in a similar way, a boy comes out who plays with that self-confidence and that joy, who attacks, who always looks for the winner. He also has that energy that hooks people, also because of his style, that suddenly makes a dropshot, serves and goes to the net, or hits a winner. It attracts people a lot. Players like Carlos make people hooked on tennis. He had a good tournament in Australia and then won the title in Miami and Barcelona. They are players that you see play and in just two months he doesn't seem the same".
Alcaraz, Nadal's successor? "It's a very difficult situation. Rafa is someone who goes beyond sports, people adore him, but people are also very excited about Carlos now, they see him as Nadal's successor, the heir to the throne. Rafa is doing very well sitting on the throne, but it is very nice to have Nadal as a reference for Carlos. They compare him a lot with him, it is a lot of pressure. Being compared to Nadal is not the best thing that can happen to you. But he is very mature for his age, he has a very good environment with Juan Carlos Ferrero and that helps him a lot. It is very difficult to manage all that. Everyone is interested in him, and that is very difficult to manage for an 18-year-old boy but he is doing very well".
Alcaraz options in Grand Slam and his beginnings at the height of legends: "I don't think there is much difference between what Alcaraz has already won and winning a Grand Slam. If Alcaraz wins a Grand Slam this year, I wouldn't be surprised. I see Roland Garros and the US Open and I say to myself: 'Why not?' His time is coming. Carlos was caught by the pandemic when he was already beginning to shine. He had invitations not only for the final table, but also for the previous ones and the pandemic just came. When the worst of the pandemic is over, in 2021 it is the The first year that Carlos can play at the highest level and look what he did. He is a boy who is capable of winning a Grand Slam. He did not remember an irruption like that since Nadal, Federer, Djokovic, Murray… these players. Alcaraz is a chosen one ".
Continuity of Mutua and its record for consecutive Grand Slams: "We have signed an agreement with the City Council so that the tournament is held in Madrid for ten more years. I have little left to play (laughs). It is the first time that I am not in the final table of Roland Garros. I do not know if I will play the because with the Mutua Madrid Open I can barely train. I'll see if I prepare these weeks or if I already focus on the grass-court season"
Increase in ticket sales: "Yes, we are receiving many requests for tickets due to Nadal's return, Carlos' appearance and Djokovic playing, but above all due to Nadal's return and Carlos's great year. I think Nadal-Alcaraz will be during the day, who usually play during the day will do so because of the rest and the match of their rivals does not have to have much difference either. The schedules are decided between the televisions, the ATP, the WTA and me".
Champions League semifinals and Nadal's request: "I hope to be able to go to the Bernabéu. Nadal asked us that when Madrid played the semifinals of the Champions League that we not play him (laughs). He likes to play during the day, so that the ball bounces higher. There are tennis players who are not from Madrid. David Ferrer is not from Madrid. Tommy Robredo and Marc López are from Barça, Sergi Bruguera is very much from Barça, the poor man is screwed… it's very hard to be an anti-Madridista. And Pato Clavet is from Atleti".